20 JUN 2009 -- INDONESIA VS ARGENTINA AT NUSANTARA CLUB
This is the game that everyone in Indonesia has been waiting for. The Indonesian team is going up against the full force of the Argentineans this month. This is further to Coach Nico Curto's Philosophy of kicking his team as hard as he can all the time, so that they are ready for the SEA games in 2011 which is being hosted by Indonesia. Gauchos Lucas Lujan and brother Santiago have now joined Nico at Nusantara for one month to work with the Indonesian team. Standby for more details of this upcoming match.
INDONESIA POLO LEAGUE -- ROUND TWO
June 2009: Indonesia Polo League Round 2 -- Indonesia beat Nusantara 5-4. Polo heads destroyed La Cinta 8-1. Nico Curto has scored 22 goals. Billy has scored 12. It is looking like a final between Indonesia Team against the Polo Heads. Stay tuned for more details and photos when they emerge.
SEP 2009 -- 4 ASIAN TEAMS TO PLAY IN BEIJING, CHINA
The Beijing Polo Club is due to open in September. There will be 4 Asian teams invited to play at a 4-6 goal level with at least 3 national players on the team. More news to follow shortly.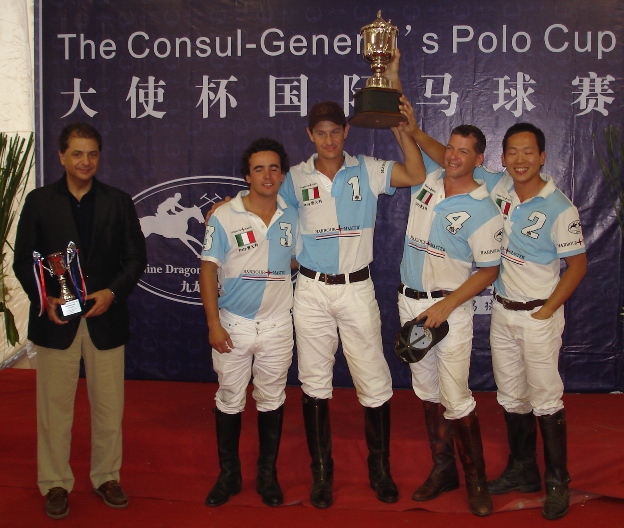 ITALY WINS THE CONSUL GENERAL'S POLO CUP IN CHINA
Steve and Rachel Wyatt conducted an extraordinary festivity of polo for local and foreign visitors to Nine Dragons Polo in China from 28-30 May 2009. There were 7 teams on the field with Professional and Beginner players on each team. The purpose of the tournament was to provide the first Handicapping Tournament in China to rank the new Chinese players and also to provide a fun, social, safe learning environment for the new players. The Tournament was won by Italy, with second place going to Germany and Third place to China Shanghai River Stars. Germany led the way by bringing in two very good professionals, then the gates were open and the other teams were able to learn from this experience and also bring in professional players as well. This was a good learning experience for the new Chinese players, and some of the gauchos learned a little bit too - about negotiating before hand. Argentinean photographer Juan Sebastian Lezica was on hand and recorded some incredible images of polo action in China. If you are interested in some photos, please email him -- www.juansebastianlezica.com.ar -- and the really hot news is that Edwin Izit has announced the official opening of his Polo Stick Repair Shop with a new supply of Mallet Heads and Rubber Grips for professional stick repair. Edwin has the first polo stick repair shop in China and is one of only two polo stick repair shops in all of Asia. If you have your stick repaired by Edwin, you will receive a special "EDWIN IZIT POLO STICKS" sticker on your revitalized stick -- www.argentinapolo.com/edwin.html

Steve and Han getting ready to play -- Jeff and Gene with VIP James Ashton -- Big Su warming up
The teams that played in the 2009 Consul General's Polo Cup in China
Italy Harbour Master - Steve Wyatt, Terramoto Talamoni, Luca Frontini, Gerry Gan. FIRST
Germany Mercedes - Ingo & Isabel von Morgenstern, Federico & Jose Potobsky. SECOND
China Shanghai Star River - Lucas Lujan, Tom Claytor, Jack Ji, Big Su/Mustang Huo. THIRD
Switzerland Chopard - Gene Wang, Jeff Su, Tex Webster, Roland Buser/VIP Guest James Ashton.
England Hurun Report - Sam Hamersley, Henry Gill, Dino Asvaintra, Henry "One Shot" Rourke.
Holland Heinecken - Stijn Welkers, Nicolas Pieroni, Pablo/Battar, Han Zantingh/Stephen Edkins.
China Noblesse - Wayne Glennie, Churo, Brian Xu, David Walton.

Rona & Wayne -- Peter Yunghanns, Steve & Rachel Wyatt -- And we finally got to meet Dino's wife...
CHINA PIONEERS "POLO PASSPORT"

Following the Consul General Polo Cup Tournament in May 2009, the CPN Handicapping Committee met to award the first polo handicaps ever in the history of polo in China -- www.cpnpolo.com -- Everyone was very impressed by the Red Polo Passports issued by CPN (designed by Rachel and Steve). The idea is based on the Scuba Divers Logbook to keep a record of your polo tournaments and your progress with your polo career. As Churchill once said, "there is no greater passport than a polo handicap." Congratulations to CPN for this pioneering achievement which is certainly the first in Asia and may even be the first in the world
CPN CHINA POLO HANDICAPS 2009
Battar -1
Pablo 0
Catho -2
Ping -2
Stijn 0
Dino -2
Mustang -2
Su Rong -1
Steve Wyatt 1
Henry Rourke 0
Henry Gill -2
David Walton -1
Ingo -2
Isabel -2
Luca Frontini -1
Brian Xu -1
Gene Wang -1
Gerry Gan -1
Jack Ji -2
Rona Glennie 0
Wayne Glennie 3
Han Zantingh -3
Stephen Elkins -3
Rolan Buser 0

China Gauchos Battar & Pablo with VIP John Wong -- Heather & Josephine in Expedition Kit -- Jack Ji ready to go
BRING YOUR HORSES TO CHINA
Steve Wyatt has recently suggested that the next stage for development of Polo in China will be for players to import their own horses. Thus far, all of the horses used for polo in China are owned by Nine Dragons polo. Steve will be ordering more horses in the coming month, and he wishes to invite serious polo enthusiasts in China that this is a good opportunity to move to the next level of polo by acquiring your own horse. They say that the horse is 80% of the game, so for the players that wish to really develop and improve their polo, a horse would be a good investment. Steve says that the import procedure for horses to China is complex and restricted, because the horses is listed as agricultural equipment and therefore individual imports are not possible.
The main rules are the following:
1. There are only 5 countries in the world that the horses can come from (Australia is one of these, but no where else in Asia and not from USA or South America).
2. An import permit has to be applied for and issued by the government to an officially registered import / export company........the procedure is as complex for 100 horses as it is for 1.
3. The quarantine periods are approx 50 days pre-export from exporting country (with Chinese vet paid to be there) then 45 days in China at an officially recognized quarantine center (registered for horses) - which there are only 2 commercial ones that we know of.
4. The vehicle that brings in the shipment can only have one type of animal and that shipment on that vehicle can only be the horses identified in the one import permit
5. You have to provide the quarantine agency in China with the blood test kits for the horses so that they can do the tests that they require – as they don't stock the reagents in China
Therefore, the way to do it is the following:
1. Basically the individual needs to join in with a shipment / importation that we are making
2. Tell us in advance, they want to join in and how many horses
3. We then apply for the import permit for the whole group – including the ones for the individual
4. Go and buy the horses in Aus ........could be at the same time that we are buying the ones for our shipment
5. We run the whole lot through the pre-export, the shipment, the import ........the quarantine, the customs taxes, the registration
6. They get their horse at the end of the process.
Our next import shipment / buying trip will be in July or August, so we need to apply for the import permit soon. If anyone would like to buy a polo horse for their use in China, please let Steve know asap -- steve@ndhpolo.com
SANTIAGO YANEZ EXPEDITION CUP AT SPP
on 09 May 2009, in honor of the new gaucho on the field, the teams at SPP assembled for the playing of the Santiago Yanez Cup. The battle between SPP (Lucas, Pepperoni, Henry, Joy) and Black Dog (Tom, Santy, Tsu, Scott) was ferocious, but when the dust finally settled, it was an Expedition Cup Victory for Black Dog 5-3. It must be said that Black Dog controlled the ball for most of the game with Scott performing some tremendous ride-offs against Lucas Lujan. Congratulations to Gustavo Yanez and Maria Power for successful production of the new gaucho. On Monday, 27 April 2009, at 5pm Argentina Time, Santiago Yanez arrived on the polo field at 3.66kg and 48cm. We have been waiting a long time for this gaucho, because if no gaucho, then we were going to have to have the "Barbosa Cup" -- but we are now very pleased to share this good news. We can already tell from the photo that Santiago will be a good rider, and he may also become a member of La Asosiacion. We wish to thank the Director of the League for this excellent photograph. If you want to email the Cabeza to congratulate him and Maria -- gustavo@argentinapolo.com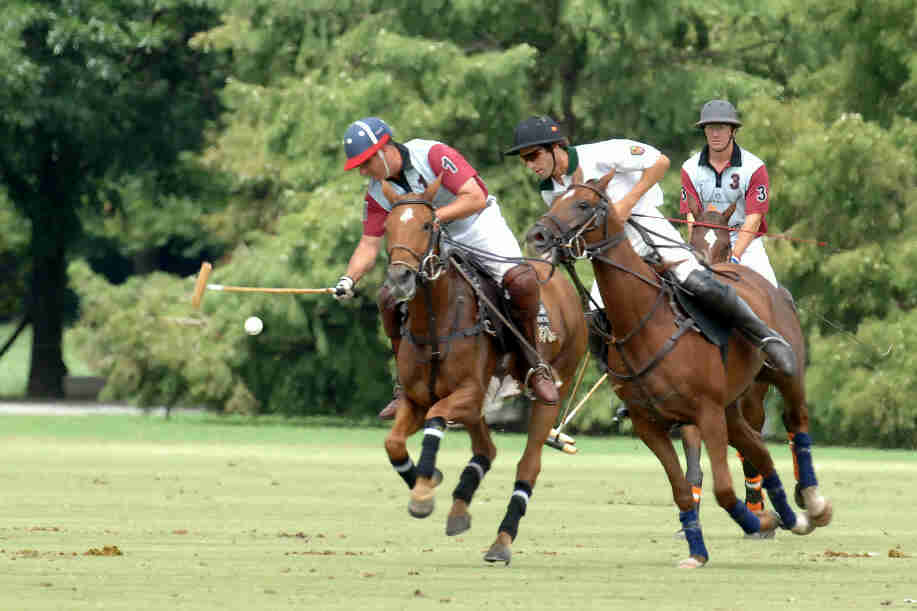 UNBRIDLED PASSION FOR POLO
Henry Rourke is a man with little time for details - he would much rather be playing polo. In fact, the only time we could sit him down was after 6 chukkas at SPP. Henry loves polo. He has played in New Zealand, Australia, Singapore, England, Malaysia, Thailand and Argentina. He has played the past 3 years in Argentina, and in 2008, he played the Polo Tour with Agustine Merlos (10), Juan Pitaluga (6) and Julian Diaz (who shot from 0-3 goals after that tournament). After eight 16-goal games in 2 weeks, his team made it to the finals and lost by 1 goal to team Villa Real. Henry has played fast polo. He told us that at Club Santa Maria de Lobos it is almost a rule that there is NO TAP AND TURN. "You back it," he says. Henry explains that this makes for a more open game of polo. "All the 8, 9, 10 goalers will tell you this. It is only the 3-4 goalers who take it around." Henry casts a furtive glace around him to make sure none of the SPP gauchos are listening. Guillermo Caset affirms the "Don't tap and turn" philosophy; this is the rule for fast polo, and the other rule is "one shot" - In or Out, go for the goal. Henry continues that in 16 goal polo, if you check, you get run over. "Always take the man. It doesn't matter if you hit the ball, because there will be two more guys behind you. You have done your job." Henry loved the polo tour, and says it was his "Baptism by fire," so to speak. He has been playing polo on and off for ten years, but only serious for the past 3 years. We asked him what polo has taught him about life, and he answered, "Work harder. Either that, or be very creative," he said with a smile. We then asked Henry for his philosophy about life, and he said, "One shot." Then he disappeared to get some more food, on his way back, he continued, "You have an obligation to have a positive outlook on life. It just makes life easier." Anyone who has been on the polo field with Henry quickly realizes that Henry is one of the most optimistic polo players you could ever hope to meet. Win or lose, as long as he is on the field, Henry will be smiling. His favorite shot is the tail, and his favorite player in Thailand is Khun Vichai. Right now, Henry is back at SPP training with Lucas and Pepperoni. He says he wants to work on keeping his stick up. Henry will be traveling with his good friend the polo player, photographer, and artist Juan Sebastian Lezica to China in the end of May to play in the tournament at Nine Dragons Hill Polo Club. If you have any questions for Henry, just remember -- "One shot."
BEGINNERS POLO CLINIC AT PATTAYA POLO FIELD
Nicole Grunwell will be available on Saturdays and Sundays to give beginner's riding lessons and beginners polo lessons at the Pattaya Polo Field near Horseshoe Point. The cost is 1,000 Baht per lesson. You must Email Nicole in advance to arrange a lesson and make sure she will be available on that weekend. She will teach your riding and give you some hitting tips on the wooden horse. Nicole is a very experienced rider and loves to teach. The Thailand polo season is coming to a close in May, but Nicole will be available though the off-season to help enthusiasts who want to learn polo, so they will be able to join SPP when the season begins in October. Email Nicole -- Call Nicole -- 0816477501 -- Map to Pattaya Polo Field -- First clinic will begin on the weekend of 22-24 May.
NEW SCHEDULE FOR NEXT SEASON -- THAILAND 2009-2010 POLO SEASON


Khun Gung has provided us with some dates for the next season of polo. The SPP dates are fixed. The TPA dates need to be approved and confirmed by TPA. The SPONSORED TOURNAMENTS at SPP are events that a member or company are welcome to sponsor. They can put their name to the tournament and discuss other marketing or fun activities with SPP. We invite Polo Escape and Thai Polo & Equestrian to send us their dates, so that we may put them up here to share with people (if they so desire) -- info@siampolonews.com
MAY
01-02MAY09 -- MITAVITE BEGINNERS CUP -- at SPP -- email
03----MAY09 -- KING POWER GOLD CUP -- at VR -- email
09-10MAY09 -- END OF SEASON TOURNAMENT -- at Siam Polo Park -- email
OCTOBER
?? OCT09 -- TPA HANDICAP COMMITTEE MEETING -- has assigned TPA handicaps for 2008. Expected revision for 2009-10.
NOVEMBER
14-15NOV09 -- SPP OPENING SEASON CUP -- email
28-29NOV09 -- TPA AMBASSADOR'S CUP -- email
DECEMBER
17-20DEC09 -- SPP SPONSORED TOURNAMENT (SPONSOR OPPORTUNITY) -- email
JANUARY
09-10JAN10 -- TPA POLO LEAGUE 1 -- email
23-30JAN10 -- TPA KING'S CUP -- email
FEBRUARY
06-07FEB10 -- TPA POLO LEAGUE 2 -- email
20-21FEB10 -- TPA POLO LEAGUE 3 -- email
MARCH
11-14MAR10 -- SPP MAIN SPONSOR TOURNAMENT (SPONSOR OPPORTUNITY) -- email
27-28MAR10 -- TPA POLO LEAGUE 4 -- email
APRIL
04----APR10 -- VRSC BIRTHDAY CUP -- email
10-11APR10 -- SPP SONGKRAN CUP -- email
23-25APR10 -- TPA KING POWER GOLD CUP -- email
MAY
01-02MAY10 -- SPP BEGINNER CUP -- email
Any comments, corrections, additional dates -- email info@siampolonews.com -- thank you.
VISITING POLO ARTIST AT SPP
SPP is very honored to have the famous Argentinean wildlife and polo artist visiting for this weekend. JUAN SEBASTIAN LEZICA has been at the club taking photographs for the past several weeks. He works in mixed media. His website -- www.juansebastianlezica.com.ar -- if full of his outstanding works. He is now 42 years old. He was born in Buenos Aires. He started playing polo before age 5, and now he is 2 goals. He lived across the street from Eduardo Moore and his greatest polo teacher was G. Caset who taught him how to strike the ball -- it is better to fight for the ball up there (downfield) than here, he would say. Juan spent 10 years as a fashion photographer in Europe, then turned to polo photography in West Palm Beach in 1998. In 2001, he started to paint his photos. His passion is to take a good action shot, then to combine the realistic with the super-realistic. "I paint the wind and the energy of that moment." Juan has an upcoming exhibition in West Palm in January 2010. Our SPP Member Henry Rourke met Juan in Santa Maria de Lobos where Juan is now working with the polo player/actor Tommy Lee Jones on a photographic book about birds. Henry invited Juan to visit Thaialnd. Juan is a people person, and he loves the kindness, respect, culture and food of Thailand. "I am going to do something here," he says, so we can all look forward to some more exciting polo work from Juan in the near future. UPDATE -- Juan Sebastian has shared with us some of his excellent photographs of polo action in Thailand -- we will be sharing these with you shortly. RIGHT HERE.

Sebastian showing Adjan Sai some of his mixed-media paintings at SPP

Khun Robin stops by to play with the gauchos at SPP -- Sebastian shows Brazilian model "Isabella" how to shoot polo photos


Nico Curto's new girlfriend Athika captured team dog "Obama" watching Nico at work on the field with the Indonesia team!


The Argentine Embassy organized a very successful Tango Exhibition at Siam Paragon in May 2009.
23&30 MAY 2009 -- MONGONIAN ARTIST -- PRESERVE THAI PONIES
Famous Thailand horse and polo vet Dr Siraya has shared with us a very exciting venue for horse and art lovers -- Dear All, I would like to invite you to join me at two charity events on May 23rd and May 30th at the Ariyasom Hotel, Sukhumvit Soi 1, Bangkok, Thailand to preserve a national heritage - the Thai ponies and their possible linkage to Mongolian horses. At these events, we will tell you about the fascinating results of our DNA studies. On May 23rd, we will be a wonderful gathering with art, wine, and a spectacular show from Patravadi theatre. A closing event will be held on May 30th with Mongolian music. At both events, you will have a chance to meet the internationally renowned Mongolian artist, BAYAR. Those who wish to buy BAYAR's paintings can do so during the auction. For more information: Contact Dr. Siraya Chunekamrai 089-1699840 c_siraya@hotmail.com Khun Sitala Watanakaset 081-8252520 sitala.toom@hotmail.com Khun Ladawal 081-6437729 ladalwal@ariyasom.com Mr. Brad Gordon 081-4027474 gowatersky@gmail.com or websites: www.lampangponywelfare.com and www.teonamfahgallery.com To purchase tickets: Make a donation of 1500 baht per ticket to the Lampang Pony Welfare Foundation Kasikorn Bank, Sukhumvit 101 Branch, Savings account# 035-2-03122-6 and fax your pay-in slip to LPWF at 02-7426621 or send details of your payment to Khun Sitala Watanakasetr 081-8252520 sitala.toom@hotmail.com Tickets will be mailed to you or alternatively you can also show your pay-in slip (to exchange for a ticket) at the event entrance. Please indicate which night you will attend: May 23 or May 30. The Lampang ponies will be most grateful if you can forward this to your interested friends.
ITALIAN POLO PLAYER MARCO ELSER VISITS SPP
Marco Elser from the Roma Polo Club in Italy kindly visited SPP after Khun Sattar from Singapore Polo directed him here. He watched some polo and ate some steaks with us and shared polo activities in Italy with us. Later he wrote to Khun Daniel and Khun Dang to thank them for the visit. "It was a pleasure having met you and having chatted about polo at your spectacular club! As I mentioned to you, we too have a place here in Rome www.acquedottoromanopoloclub.it which is 25 minutes from either airport of Rome (FCO and CIA). My brother Max and I would like to invite Kun Vichai and his two boys to come and play a few games here the next time they come to Italy. Our season is from April to October. we have other 30 ponies and usually play 6-8 goal polo. I am also on the Board of the Roma Polo Club (the oldest club in Italy) which is in the centre of town (similar to Singapore Polo Club). We have two fields there. My brother and I have over 30 ponies and would gladly mount an entire 4 man team from Thailand! Please feel free to call me at the numbers below or drop me an e-mail! Best wishes!
INTERVIEW WITH TOMI LOCKEY -- POLO FARRIER
Some time ago, we caught up with Tomi Lockey to learn a little bit about the life of a Farrier in Asia. Tomi is 32 years old. He was born in Buenos Aires. In 2000, he took a 4 day Farrier course -- Curso de Herrado -- in the Hipodromo de Palermo with Pedro Pechar. Pedro is one of the top 3 Farriers in Argentina and is highly respected for his work. Tomi was able to work with him for more than a year. He then spent 3 months in Lamar, Missouri working on his Course Intensive Certificate at the Heartland Horseshoeing School. What Tomi learned from Pedro is that it is very important in Farrier work to take every horse individually and to keep it simple. With any horse, the foot is divided into 4 parts (2 heel and 2 shoulder). Each of these parts should bear the same weight. Therefore, when you trim the horse's foot, you trim where it is too long to achieve the balance on each foot. This allows the horse to maintain the balance of 60% of its weight on the front legs and 40% on the back legs. When you maintain this balance with the horse, then every muscle and every joint works as it should, and this results in less injury. Tomi has now worked in USA, Argentina, Thailand, Indonesia, Singapore, China, Malaysia and Philippines. He loves teaching, and he now has several apprentices working at different clubs and he hopes to do more teaching in the future, so that 50% of his time can be devoted to passing on the trade. Tomi estimates that he shoes about 150-200 horses per month during the 6 month season. He enjoys to be free with his time and devotes a lot of time to his family. He now has 2 sons and 1 more coming. Tomi first came to Asia because Singapore Polo Club was buying horses from Pilar, and Sattar, the Singapore Club Manager, said he needed a farrier at the club for two years. Tomi finds himself welcome at every club. His philosophy is to go and do the work he needs to do, and then to go home to his family. He has been playing polo now for one year. His handicap is 0, and he loves it. Tomi will always make time to play polo, even if he then has to work like a dog for two days to catch up. He was first invited to play by Marco at Siam Polo Park last year, and his first challenge was how to keep safe on the field. He goes to tournaments and watches every match and listens and tries to get every small thing he can without bothering anyone. His favorite player to watch is Federico Potobsky. He is aggressive, but clear, with good positioning and marking. "Try not to waste the horse," he says. Anticipation is very important. Don't chase the ball. "Be the first on the next play, not the last on every play." Tomi's passion for Farrier work came the first time he saw the two Farriers Pedro Pechar and Emilio Ezcurra working in an Embryo Transplant Lab in Lincoln, Buenos Aires. They came to shoe 2 very important stallions with chronic laminitis. One of the horses went from being prostrate to trotting in two hours. Tomi wanted to watch. They were both very open to him, and afterwards, Pedro invited him to join his 4 day course for free. Tomi says, that if you want to go all the way, this is the school. The most important thing for the Farrier is to work with a horse's conformation. Every horse does not have ideal confirmation. You need to have an eye. If the horse is low on the heel conformation, it will get worse. The Farrier has to reverse this. Trim the toe to correct this to normal, but never over correct. This allows the horse to work with this confirmation problem. Don't try to correct it. If it is not straight, don't try to make it straight. Many Farriers try to do this, and it is not the good way. The shoe should copy the shape of the hoof in the wild, because the horse's hoof will take the shape of the shoe. The Breakover and Landing are dictated by the shoe, so the shoe can be your "best friend or worst enemy." Tomi says that the horse has 5 hearts -- the 4 frogs on the bottom of each foot assist with circulation and help supply Oxygen to the horse. Each frog is a pump. Tomi says it is a myth that the hoof face must be 55* angle to the ground. The 3 Pastern bones from Fetlock to ground should be straight line, so the horse is standing square. If the hoof face is 45*, you can support the heel. If the hoof face is 55*, you can support the toe. Tomi has enjoyed designing some Farrier gear to make his work easier. He has a TOOL BAG which is an emergency kit to pull a shoe if needed. A horse can play with 3 shoes, and with this kit, he can travel anywhere and be ready. He has also designed the LOCKEY CHAPS for working with horses. These protect you from the nail and hoof. They are made of double leather on the knees, but also are cool for working in hot countries. Chaps are important for a Farrier's work, because we work against the joints, and the joints are hard. The chaps have pockets on each side for hoof knife and loop knife with a clip on belt and velcro strap. Tomi stresses if you give a horse balance (a good base), the horse will take care of a healthy foot. If you have any questions for Tomi -- tomi@argentinapolo.com
BRIAN PERRY WILL VISIT THAILAND & INDONESIA
Brian Perry, the Chairman of the Kenya Polo Association, will be coming to visit Thailand in the end of May. He will have a free day on the 30th to hopefully visit some of Thailand's polo clubs. On the 31st, he will be flying to Indonesia and spending three weeks working there. Brian was a contributing author to the Coffee Table Book "Great Polo Clubs of the World" in which he wrote the chapter on Nairobi Polo Club. He was promised a copy of the book upon its completion, and he will be quite keen to see if he can receive his copy while he is here. Pictured here, is a 1993 photo from the famous Kenyan "Mugs Mug" polo tournament at 7,000' elevation on the North slope of Mount Kenya. Brian was playing with one of the current members of Siam Polo Park (seen wearing "Bata Boots" in the photo) and reminded us what a small polo world we live in and also of the team's courageous Third place finish. We look forward to welcoming Brian to Thailand.
MITAVITE BEGINNERS CUP AT SPP
The Muktahan "Monsters" won the Mitavite Beginners Cup at SPP on the weekend of 1-2 May 2009. Second
place went to Commander Un's Chiangmai Polo Club team with third place to the SPP "Aliens." It was a great two days of polo with professionals assisting the beginners. One of the highlights was Khun M's first polo match and first goal all in one. He drilled the ball towards goal, and Khun Top sat and patiently waited for the ball to go into the goal while blocking Khun Tsu from the ball. We are very grateful to Mitavite, our proud sponsor. We want to thank Chiangmai Team for coming down with special performances from Khun Un, Khun Robert and Khun M. Thank you also to Oliver who came all the way from Beijing and to Henry Rourke for his cheerful enthusiasm and polo friendship. For beginners in search of advice and polo tips, we suggest -- www.pologringo.com

Chiangmai "ELEPHANTS" and the SPP "ALIENS" in the Mitavite Beginners Cup at SPP
VRSC WINS KING POWER GOLD CUP
On 03 May 2009, the greatest show of "Mas Caballero En La Cancha" ever in the history of the game was exhibited by Nicolas Pieroni during the King Power Gold Cup. It was the final between King Power and VRSC and VRSC was winning by one goal with 3 minutes to play. The ball was thrown in, and Pepperoni took the ball all the way down field and scored a beautiful goal in his own team's goal. This increased the VRSC lead to 2 goals and secured the victory for VRSC. Khun Tal said that without any question, the Medal for the most Gentleman Player on the field should go to Nicolas Pieroni. The Most Improved player went to Khun Un from Chiangmai Polo Team for a great performance on the field for VRSC. Then Khun Top and Khun Tom awarded a very new and special award to Khun Santy -- the Mas Peligroso En La Cancha Award -- for the most dangerous player. Khun Top and Khun Tom have received a combined 19 stitches from Khun Santy in three separate strikings-of-the-head by Santy's mallet.
VRSC -- FIRST
Vichai
Lucas
Daniel
Noo
SPP -- THIRD
Henry Rourke
Tom
Jamie Woodward
Santy (MAS PELIGROSO)
KING POWER -- SECOND
Nicolas Pieroni (MAS CABALLERO)
Top
Tal
Un (MOST IMPROVED)

The teams of VRSC, KING POWER and SPP at the conclusion of the GOLD CUP
9-10 MAY 2009 -- INDONESIA NATIONAL CUP TOURNAMENT
Cancelled -- due to rain. Instead, Nico Curto is celebrating his 21st Birthday this Saturday with Wan and Diego. Compleanos Nico.
18-22 MAR 2009 -- THAILAND WINS 66th FIP AMBASSADOR'S CUP IN SYDNEY AUSTRALIA

Khun Robin reports: The Ambassadors Cup was created by the Federation of International Polo 20 years ago to develop International polo friendships between all the members of the National Associations. The week long event was held first at Millamolong Polo Club hostel. Mr. James Ashton followed by Mr. Sam Ballas at Folly Lodge. The special Aussie hospitality was unforgettable and immensely enjoyed by all 6 participating teams from Australia, America, Canada, Iran, Mongolia and Thailand. MIllamolong Polo Club – Madurama. Millamolong is a 9000 acre working Australian Sheep and Cattle Station located in the heart of one of Australia's most scenic farming and wine producing districts near Bathurst NSW. Millamolong has its own boutique winery which has been producing a number of award winning wines. Most importantly, Millamolong breeds some of Australia's finest polo ponies and its Club hosts polo tournaments for players of all standards. Please see www.millamolong.com for photos, history and more information. Folly Lodge Polo Club – Bowral. Folly Lodge is situated in the beautiful Southern Highlands town of Bowral NSW, a region famous for its magnificent country gardens, estates and wineries, along with the annual tulip festival in spring which attracts international attention. Folly Lodge is located 115 km south-west of Sydney and is nestled in the shadow of Mount Gibraltar. Please find photos attached herewith. Also, please take a look at http://www.bongbongpolo.com.au/galleries/Ambassador_Cup/index.html
Team Thailand : James Ashton, Sam Ballas, Robin Lourvanij, Marco Foccaccia.
Team Australia : Wal Ashton, Ray Bruce, Chris McCarthy, Marlene MacFarlane.
Team America : James Burkitt, Guido Giraldi, George Dill, Suzy Dix.
Team Canada : Andrew Ashton, Robert Wilson, Anthony Old, Soodi Ilkhanizadeh.
Team Iran : Eugene Marais, Catalin Dix, Hamzeh Ilkhanizadeh, Dick Rodgers.
Team Mongolia : Andres Rossi, Roger Fagan, Chirstpher Giercke, Norm MacKay.
INDONESIA LEADS IN INDONESIA POLO LEAGUE
Nico Curto and Prabowo have announced the exciting introduction of the Indonesia Polo League, and on the first weekend of play 25-26 April 2009, the Indonesia team smashed all competition off the board. There were 4 teams in the first weekend of League play (as Nusantara was several men down with Iman sick and Wan suffered a slight injury after a fantastic looking play at high speed and a nice fall). La Cinta was the newest addition to the field, with team manager Di producing some magnificent shirts and J-Lo with his new polo glove. Rajiv had just returned from the Pepperoni polo clinic at SPP and he played the best defensive polo that anyone could have imagined. However, there was no defense that could stop the Indonesia team. Acep and Billy were hitting very well. Hari was calling plays and Novel was playing like a Nico Curto. They were great games to watch. Polo Heads had some new polo shirts and team manager Winda was on the side lines to cheer on DJ. However, the Polo Heads seemed to have lost their heads as Nico Curto was trying to get the team motivated, but they were a little scattered. Howard and Wan had some good hits, but they were not able to keep up with the Curto. The Black Dog team with 2 girls on the team was on fire as they showed the team
of love (La Cinta) how to play polo. Daninya was in fine form and the gaucho Diego was helping Curto to put the ball down field. Pepin led several charges down field for La Cinta, but unable to convert on 3 attempts, La Cinta was hurting. It was a great weekend of League Polo and Curto showed up with his new friend on the sidelines on Sunday -- a film producer. After that, no one ever saw Curto again. Thanks to Nico and Prabowo for an excellent weekend of polo. Prabowo's party finished 8th in the recent elections, but now he has combined with Megawati (who finished third), so Prabowo is still going strong. We all wish him luck.
SCHEDULE FOR APRIL 2009 -- REVISED


FRIDAY AT 4 PM

. POLO HEADS VS. NUSANTARA umpire novel and pepen (time changed to afternoon due to rain)
THE MATCH STARTS 1 - O FOR POLO HEADS


SATURDAY AT 4 PM

POLO HEADS VS. INDONESIA umpire Tom Claytor and Inen
THE MATCH STARTS 1 1/2 - 0 FOR POLO HEADS


SUNDAY 9 AM

. LA CINTA VS. INDONESIA umpire Wartono and Inen
THE MATCH STARTS 1 1/2 - 0 FOR LA CINTA


SUNDAY 4 PM

. LA CINTA VS. BLACK DOG umpire Inen and Wartono
THE MATCH STARTS 1 1/2 - 0 FOR LA CINTA
GAME SUMMARY FROM CURTO
12 goals - Nico Curto (3 games)
8 goals - Billy
5 goals - Harry, Novel
2 goals - Glendy, Acep
1 goal - Howard chu, Wan zainal, Agus gombong, Inen, Pepen, Tom Claytor
MOST IMPROVED PLAYER: Jhoan Louis ( J-LO playing for La Cinta )
MOST CABALLERO EN LA CANCHA: Tom Claytor ( playing for La Cinta )
WE STILL HAVE 2 MORE ROUNDS. LET SEE WHAT HAPPENS
POLO HEADS
Nico Curto hdp. 4
Wan Zainal hdp. -2
Howard Chu -2
D J hdp. -2
TOTAL -2
INDONESIA TEAM
Billy hdp.0
Acep hdp.0
Novel hdp.1
Harry hdp.0
TOTAL 1
NUSANTARA TEAM
Iman Kusumo hdp.0
Agus Gombong hdp.0
Mario Miguel hdp.-1
Inen Sarnen hdp.1
TOTAL 0
LA CINTA
Tom Claytor hdp.1
Pepen hdp.1
Rajiv hdp.-2
J - LO hdp.-2
TOTAL -2
BLACK DOG
Nico Curto hdp.4
Nicky Bollen hdp.-1
Diego/Daninya hdp.0/-2
Eduoard hpd.-2
TOTAL 1

BLACK DOG TEAM and LA CINTA TEAM at the Indonesia Polo League
KHUN VICHAI CELEBRATES BIRTHDAY CUP
VRSC Polo held the annual Khun Vichai Birthday Cup 2009 on 04 April. There were 3 teams on the field for the event.


King Power

- Tsu, Daniel, Lucas, Eric


VR

- Khun Vichai, Khun Top, Khun Tal, Gustavio


SPP

- Ploy, Noo, Nicolas, Santy
Eric was playing in blistering form as he combined his defensive tactics with Khun Daniel and Lucas. Tsu was like a lightning bolt streaking across the field. Khun Santy and Pepperoni played like Paisano passing the ball back and forth. However, it was the juggernaut destructive force of Khun Tal teaming up with the soon-to-be-a-father again Cabeza Grande and Khun Top that won the day. The scores of the event were as follows:
KP Vs SPP 3 – 4 ½
SPP Vs VRSC 1 ½ - 4
VRSC Vs KP 2 – 1
VRSC won the Birthday Cup 2009 and Khun Vichai celebrated with his family, friends and gauchos for his birthday.
THAILAND BEACH POLO UPDATE
At the first TPA polo meeting of the year, Khun Robin suggested a Beach Polo Exhibition held towards the end of the 2009 polo season would be a fun event. TPA members loved the idea and promptly appointed Khun Robin the Chairman of the Beach Polo Committee. Khun Robin has informed us that she is working hard to make this a successful event and due to the political situation, she will plan this event for next season. Polo Escape will be opening again in November. Also Khun Robin will be sending us an update from their very exciting Ambassador's Cup Competition in Australia -- STAY TUNED FOR THIS !!!!! For more information -- polo@poloescape.com
INDONESIA WINS SONGKRAN CUP AT SPP -- CABEZA GETS THE ICE
On 10 & 12 April 2009, The Songkran Cup was played at SPP. There were three teams assembled on the field. Khun Stijn was visiting from Singapore to attend the Cabeza Clinic with Hema and Khun Nico brought up Wan and Acep for an Indonesian Team. VR was led by Cabeza Grande. Lucas was playing a Chukka Grande. The temperatures always rise around Songkran. But it was on Sunday, when the unbelievable miracle happened and Cabeza Grande was defeated in the Songkran Cup and had the honor of receiving the Ice Water treatment. Never in the history of polo in Thailand has Cabeza received this great honor, and we are pleased to share this photo to remind him of it for the rest of his life. The scores (over 6 chukkas): Nunsatra 8 vs SPP 7. SPP 8 vs VRSC 8. Nunsatra 10 vs VRSC 7. The Teams:
INDONESIA
Nico Curto
Santy Lujan
Wan Zainal
Acep "the terminator"
SPP
Lucas Lujan
Nicolas Pieroni
Rhys Cole
Khun Ploy
VR TEAM
Gustavo Yanez
Scott
Daniel Yanez / Nutthadith
Rodrigo / Bakthier
FAST TRACK POLO SCHOOL AT SPP
In March 2009, Professor Pepperoni inaugurated Hema from Singapore into his "fast track polo school." She did 8 stick and ball sessions in the mornings over 9 days, resting only on one Monday. Then, she did a 2-on-2 slow chukka with Khun Robert, another new polo player, and then she went full force joining an 8 goal team of Cabezas and Caballeros to show her stuff. Hema graduated on Day 9 in her last stick & ball session being able to comfortably hit nearside forehands all the way from one end to the other end of the field. Backhands were possible in a slightly slower pace and the first beginnings of the rules of polo had been planted. She is full of confidence and even suggested she wanted to play in the beginners tournament on 1-3 May 2009. Her husband Stijn presented her with a new pair of polo boots and was beaming with pride. Congratulations Hema.
ADAMAS TROPHY & KUPPA KUP EXTRAVAGANZA WEEKEND AT POLO ESCAPE
On the weekend of 11-12 April, the ADAMAS TROPHY EXHIBITION (12 Goal Professional) was played at Polo Escape. On Sunday, The first KUPPA KUP 8 Goal Edition sponsored by Kuppa was played. There was a Pimms Tent and a BBQ and TAPAS on Sunday. Saturday Asado: THB 2500 per person. Sunday Tapas: THB 1500 per person. Matches started at 16:30. Splendid photos by Hugh.
ADAMAS TEAM:
LUCAS TALAMONI: 5
SHAIK REISMANN: 2
SHANE MARTIN: 3
BHAWANI KALVI: 2
TOTAL: 12
POLO ESCAPE TEAM:
FEDERICO VON POTOBSKY: 4
MARK FIELD: 4
JOSE VON POTOBSKY: 3
RAMIRO PELLEGRINI: 2
TOTAL: 13
KuppA:
ROBIN LOURVANIJ: 0
SUSY LOURVANIJ: 0
MARK FIELD: 4
FEDERICO VON POTOBSKY 4
TOTAL: 8
ADAMAS:
PAUL CHEUNG: -1
SHAIK REISMANN: 2
BAWANI KALVI: 2
LUCAS TALAMONI: 5
TOTAL: 8.
MUKTAHAN DESTROYS ARGENTINA IN THE ESTABLOS CUP AT SPP
In the end of March 2009, The Establose Cup was played at SPP. There were 4 chukkas played between the Teams of Muktahan and Argentina. The Muktahan team was captained by Khun Tsu and The Argentina team was led by Facundo "Cambiaso" Pieroni. There were thousands of spectators on the side of the field to support the Muktahan team, but "Cambiaso del Noche" was not disturbed by all this. Many polo fans have been following the progress of "Cambiaso del Noche" on the polo field, and his skills and technique had the Muktahan team severely worried. In fact, Cambiaso was selected to captain the Argentina Team, because just the sight of him on the field is enough to make your blood run cold and all the horses tremble. His cousin Pepperoni filed this in-depth report: "se jugaron 4 chukka, en donde el equipo de muthajan team conformado por tsu, choi, sumchan, ban derroto al equipo de argentina que lo integraba facundo pieroni, rodrigote, daniel, paitoon. 4 chukka en donde el resultado fue de 3 a 2 a favor del equipo local con una actuacion sobresaliente de kun choi." And there you have it, the complete blow-by-blow of the battle between Argentina and Muktahan at SPP.
KING'S CUP ELEPHANT POLO IN GOLDEN TRIANGLE
On 23-29 March 2009, The King's Cup Elephant Polo sponsored by Ananantara and Audemars Piguet was held in Golden Triangle, Chiang Rai. There were 12 teams in the event. Audemars Piguet defeated SOCO in a exciting final for the Gold, and Mercedes defeated Moet Chandon for the Bronze. Over 50,000 US$ was raised for Elephant Conservation and there were fans and participants from all over the world. Most noticeably this year, was the tremendous support from the Singapore Polo Club with Ang Ban Tong and many polo players from Singapore bringing their skill to the field from Singapore -- 2009 Elephant Polo Article (Jamaica Polo Magazine) -- 5 minute video of 2009 King's Cup Elephant Polo
1 - Audemars Piguet
2 - SOCO International
3 - Mercedes Benz
4 - Moet et Chandon
5 - K Bank Thailand
6 - Price Waterhouse WEPA Legends
7 - The Nellies
8 - IBM Singapore Polo
9 - HSBC Spice Girls
10 - Oakwood Boutique
11 - Anantara
12 - TAT Thailand
www.anantaraelephantpolo.com
SCHEDULE FOR THAILAND 2008-09 POLO SEASON


The following dates were scheduled during the 18SEP08 TPA meeting at the TPA office in Bangkok and from other sources.
OCTOBER
14OCT08 -- TPA HANDICAP COMMITTEE MEETING -- has assigned TPA handicaps for 2008. May be revised in Jan 2009.
18OCT08 -- OPEN POLO SEASON -- at VR Polo Club
NOVEMBER
07-09NOV08 -- BEGINNERS CUP (0-2 goal) -- at Siam Polo Park -- Chiangmai beats Muktahan. King Power & Black Dog tie.
15-16NOV08 -- CHALLENGE CUP (4-6 goal) -- at Polo Escape -- won by Adamas.
16-19NOV08 -- OPEN SEASON AMERICAN EXPRESS & LA MARTINA -- at Thai Polo & Equestrian Club -- email
21-22NOV08 -- REGGIE LUDWIG POLO CLINIC -- at Thai Polo & Equestrian Club (with 4 students from Indonesia)
20-22NOV08 -- AMBASSADOR CUP (4-6 goal) -- at Polo Escape -- email -- won by Adamas.
29-30NOV08 -- BEGINNERS CUP (0-2 goal) polo kids -- at Thai Polo & Equestrian Club -- to join -- email
DECEMBER
05-07DEC08 -- PLAYERS TOURNAMENT (0-2 goal) -- at Polo Escape (no entry fee) -- submit individually or as a team -- email
05-07DEC08 -- BARCELONA TOUR CUP (3-6 goal) -- at Thai Polo & Equestrian Club -- email
13DEC08 -- LA MARTINA B.GRIMM ANNIVERSARY CUP -- England beat Asia 10-6 at Thai Polo & Equestrian Club
20-21DEC08 -- NO EVENT
27-28DEC08 -- GABRIEL DONOSO CUP -- at Thai Polo & Equestrian Club -- email
27-28DEC08 -- CHRISTMAS CUP -- 4 teams confirmed at Siam Polo Park -- email
JANUARY
31-01JAN09 -- NEW YEAR CUP (3-6 goal) -- at Thai Polo & Equestrian Club -- email
03-04JAN09 -- NEW YEARS CUP (2 goal) -- at Polo Escape -- a little in house tournament, everyone welcome -- email
10-11JAN09 -- "WAN DEK" & STIJN HAIRCUT CUP -- VR Polo Club -- email
09-18JAN09 -- THAI POLO OPEN (12-14 goal) -- Mercedes Benz & Credit Swisse -- at Thai Polo & Equestrian Club -- email
24-25JAN09 -- CHINESE NEW YEAR CUP -- at VR Polo Club Followed by Paintball War at the paintball cancha.
FEBRUARY
31-01FEB09 -- TRI NATIONS CUP (0 goal) -- at VR polo club // China, England, Thai teams coming -- email
31-01FEB09 -- THAILAND EQUESTRIAN FEDERATION CUP -- at Thai Polo & Equstrian Club -- email
05-07FEB09 -- INTERNATIONAL ALMOST LADIES TOURNAMENT (4-6 goal) -- at Polo Escape -- email
07-08FEB09 -- ENGLAND TOUR CUP -- at Thai Polo & Equestrian Club -- email
13-15FEB09 -- THAI POLO LEAGUE-1 (4-6 goal) -- at Polo Escape -- email
21-22FEB09 -- AUSTRALIAN TOUR CUP -- at Thai Polo & Equestrian Club -- email
MARCH
28-01MAR08 -- EASTER CUP (2-4 goal) -- at Thai Polo & Equestrian Club -- email
06-08MAR09 -- THAI POLO LEAGUE-2 (4-6 goal) -- at Siam Polo Park/VRSC -- email
13-15MAR09 --

THAI POLO LEAGUE-3

(4-6 goal) -- at VR Polo Club -- email
14-15MAR09 -- BEGINNERS CUP -- at Nusantara Polo INDONESIA -- nico@argentinapolo.com
20-22MAR09 -- AMBASSADORS CUP -- at Nusantara Polo INDONESIA -- nico@argentinapolo.com NEW EVENT
21-22MAR09 -- CHINA TOUR CUP (0-2 goal) -- at Thai Polo & Equestrian Club -- email
23-29MAR09 -- KING'S CUP ELEPHANT POLO 2009 -- ANANTARA GOLDEN TRIANGLE -- email
28-29MAR09 -- ADAMAS TROPHY (10 goal) -- at Polo Escape -- email
POSTPONED -- POLO-GOLF COMBINATION CUP -- VR Polo Club -- email
APRIL
04-05APR09 -- FIRST CHUKKA CUP (0-2 goal) -- at Thai Polo & Equestrian Club -- email
11-12APR09 --

SONGKRAN CUP

-- at VR -- (also Khun Vichai's Birthday) -- email
11-12APR09 -- ADAMAS TROPHY & KUPPA KUP -- at Polo Escape -- email
11-12APR09 -- SONGKRAN CUP -- at Thai Polo & Equestrian Club -- email
18-19APR09 -- END OF SEASON MATCH -- at Thai Polo & Equestrian Club -- email
25-26APR09 -- END OF SEASON MATCH -- at Polo Escape -- email
MAY
01-02MAY09 -- MITAVITE BEGINNERS CUP -- at SPP -- email
03----MAY09 -- KING POWER GOLD CUP -- at VR -- email
08-10MAY09 -- END OF SEASON TOURNAMENT -- at Siam Polo Park -- email
CANCELLED -- BEACH POLO -- on the beach in HUA HIN -- Khun Robin is chairperson of Thai Beach Polo -- to join -- robin@poloescape.com
Any comments, corrections, additional dates -- email info@siampolonews.com -- thank you.
NINE DRAGONS POLO TOUR -- CHINA
The beautiful, but now married, Grace Xu from Nine Dragons has informed us of the CHINA POLO TOUR package now being offered by Nine Dragons Hill Polo Club outside Shanghai, China. We do not know the dates of this tour, but if you have any questions, you can click the image on the left or communicate directly with the beautiful Grace Xu -- gracexu@ndhpolo.com -- 86+13738277927.
NUSANTARA POLO SEASON -- INDONESIA
Nico Curto has sent us the season schedule for Nusantara in 2009. If anyone is interested in joining any of these tournaments at Nusantara Polo Club, Jagorawi, Jakarta, Indonesia -- nico@argentinapolo.com
MARCH
14-15 March -- BEGINNERS CUP 1 (-8 to 0 Indoor handicap)
21-22 March -- AMBASSADORS CUP (6 GOAL)
APRIL
10-12 April -- HASIM DJOJOHADIKUSUMO CUP (4 GOAL)
24-26 April -- NUSANTARA LEAGUE round 1 (2 GOAL)
MAY
8-10 May -- NATIONAL 0 GOAL CUP (O GOAL)
22-24 -- NUSANTARA LEAGUE round 2 (2 GOAL)
JUNE
5-7 June -- NUSANTARA CUP (4 GOAL)
19-21 June -- NUSANTARA LEAGUE final round (2 GOAL)
JULY
4-5 July -- BEGINNERS CUP 2 (-8 to 0 Indoor handicap)
17-19 July -- AMBASSADORS 2 (6 GOAL)
AUGUST
7-9 August -- MERDEKA CUP (2 GOAL)
18-23 August -- INDONESIAN OPEN (8 GOAL)
ARGENTINA WINS THE NUSANTARA AMBASSADORS CUP
-- INDONESIA

On 20-22 March, Nusantara Polo Club with Iman Kusumo (Chairman of Indonesian Polo Association) and Nico Curto (Polo Manager of Nusantara Polo Club) organized the Ambassadors Cup. There were 3 teams in the competition. The real battle was between Nigeria (the old guard Nusantara Seniors Team) and the young and upcoming Indonesia Team as SEA GAMES POLO 2011 is fast approaching. Nusantara special polo correspondent Wan provided us with the tournament account. It was a good all-round polo between the teams on the first day, and to the delight of the Patron of Nusantara Polo Prabowo Subianto, the Indonesian Team played exceptional team work to be up against Argentina Polo by 3-2, and Nigeria by 6-2. Argentina Team however was leading the Nigeria Team by 6-2. Although the play was suspend on Sunday due to heavy rain, the crowd was memorised by some fine hidden talent of among the players. Wan Zainal got the ball rolling with a simple tailshot To Love Somedy and Nico continued with a nearside over-the-air openbackshot in a true Argentinina accent singing Eric Clapton Wonderful Tonight. The Argentina Deputy Chief of Mission joined Wan and Curto and told the crowd in Frank Sanantra words how they "Did it sideways". Sunday also saw the reunion of the group trio Lost of the Lobos with Wan, Manu and Curto singing La bamba. But no act is complete without some find Pocho-Pocho by Billy 'The Pocho King' Lumintan, with Curto on the mic. On Monday, The Indonesian Polo Team continued their excellent run to beat the Nigerian Team in the final score of 11-3, and was looking ever so ready to take on the Argentinian. It was a a hard fought match on the final 2 chukkas between Argentina and Indonesia, and the 2 Argentinian playmaker played brilliantly in their positions to ensure that 2009 Ambassador Cup was for them for the taking. The final score was Argentina 5 - Indonesia 3.
INDONESIA TEAM
Novel Alpha Momongan 1
Harryfar 0
Billy Barsel Lumingtan 0
Acep Krishnandar 0
TOTAL 1
ARGENTINA EMBASSY TEAM
Nico Curto 4
Manuel Cereceda 3
Iman Kusumo 0
Prabowo -2 / Wan Zainal -2
TOTAL 5
NIGERIA TEAM
Wartono 1
Inen 1
Pepen 1
Howard Chu -2
TOTAL 1
VR VICTORY IN THAI POLO LEAGUE 2009

On 13-15 March 2009, VR pushed through to command a complete victory in Thai Polo League 2009. Captain Nicolas "Pepperoni" Pieroni was on the field con "Pasion y Gloria" to carry VR to their first victory of Thai Polo League play. El Campion de La Vida was completely ecstatic over his victory. Khun Top was on form for the final weekend of play in the League. The VR team also took the GOLDEN BALL TROPHY of the League with Santy Lujan as Top Gun scoring the most goals during league play. Furthermore, we just heard from the Director of the League that Khun Tal Raksriaksorn won the "MAS CABALLERO EN LA CANCHA" trophy for the best sportsman on the field of play during the league. This is an absolute polo record with the VR Team winning three trophies and a total of 19 points in League play. The team is now an inspiration to all polo teams in Asia and across the globe from this incredible victory. We are going to try to obtain a Team Photo that can be signed by the members of the team to distribute to all their fans. The Director of the League has also informed us that the trophy for MOST IMPROVED PLAYER in the League went to Stijn Welkers from China and Singapore. Stijn was the #1 gun on the King Power team. Congratulations to all these players for their achievements. The final league placements were VR, KING POWER, HARILELA, POLO ESCAPE, BRUNEI, BLACK DOG. It was a splendid season of League play. We would like to congratulate Black Dog Captain Henry Rourke for leading the beleaguered team to victory in very friendly match play this past weekend. Captain Henry was over the moon after his team's victory, and in fact, it was the only game that Black Dog won during the entire league, so we are all very proud of him. We would also like to congratulate Federico from Polo Escape for his great improvement in sportsmanship on the field -- surely he is striving for the "Mas Caballero En La Cancha" trophy with his continued good sportsmanship on the field. As soon as we get the scores and points from the Director of the League -- we will post them here to share with you. Thank you to Polo Escape, SPP and VRSC for hosting an inspirational season of Thai Polo League polo in 2009. Message from Indonesia: Felicitaciones VR & KP por salir vencedores en la thai polo league. me alegro muchisimo la noticia!!!! nos veremos pronto y cuando quieran. Abrazos, Nico Curto

Some of the players of Thai Polo League 2009

FRIDAY 13 March
PE vs HNL at Polo Escape


KP

vs BD at VRSC
STT vs VR at VRSC
SATURDAY 14 March
VR vs PE at VRSC
KP vs HNL at VRSC
STT vs BD at VRSC
SUNDAY 15 March
STT vs

HNL

at VRSC
KP vs

VR

at VRSC
PE vs

BD

at VRSC
STAPLEFORD
Pengiran Rahim 0
Huzaimi 0
Abu Kassim 0
Gusy 4
TOTAL 4
KING POWER
Vichai 0
Sting -1
Lukas Lujan 3
Gustavo 4
TOTAL 6
VRSC
Top 1
Tal 1
Nico Pieroni 2
Santy Lujan 2
TOTAL 6
BLACK DOG
Daniel Yanez 1
Dave Allen 5
Scott -1
Henry Rouke 0
TOTAL 5
HARILELA
Marco 2
Agustin Lorea 4
Juaquin 0
Aron Harilela 0
TOTAL 6
POLO ESCAPE
Fede Potobsky 4
Jose Potobsky 3
Susy 0
Gerry -1
TOTAL 6
FOUR AWARDS IN THAI POLO LEAGUE 2009


For more information, contact the Director of the League -- gustavo@argentinapolo.com


VR POLO TEAM

- League Champions (highest points accumulated team)
SANTY LUJAN - Golden Ball (top goal scorer)
STIJN WELKERS - Most Improved Player
TAL RAKSRIAKSORN - Mas Caballero en la Cancha (best sportsman)
LEAGUE STANDINGS (not including final weekend of play)
| | | | |
| --- | --- | --- | --- |
| Team | League Points | Goals Scored | Most Caballero |
| Polo Escape | 8 ww-ll | 5.5+7.5+4+3=20 | Federico Potobsky |
| King Power | 9 wl-wt | 9+6+6.5+6=27.5 | Khun Noo & Khun Tal |
| Harilela | 10 lww-lt | 4+10+7+6+6=33 | Agustin |
| Stapleford / Brunei | 3 lll | 4+3+4=11 | Collie Brothers & Curto |
| VRSC | 13 lw-www | 8+8+6+8+5=35 | Santy |
| Black Dog | 1 l | 4 | Henry |
POLO HEADS CLAIM VICTORY AT NUSANTARA BEGINNERS CUP

-- INDONESIA


PHOTOS by Rajiv Louis -- http://gallery.me.com/rajivlouis1 -- The Nusantara Polo Club hosted the 2009 Beginners Cup on 14-15 March 2009. The 4 teams played 2 chukkas each day on Saturday and Sunday. On Saturday, Pato Loco was pure inspiration with Daninya scoring 3 goals to command a serious victory over The Guardsmen. The Black Dog and Polo Heads battled it out on the field with neither team scoring a single goal and Polo Heads advancing out of handicap to the final. On the final day, Guardsmen vs Black Dog showed the fans what polo was all about. The Guardsmen played excellent team polo with Wan and Howard leading their team down the field and Harry at back playing like a real Nico Curto. It was a great game, but the Black Dog team was struggling with communications in Indonesian and French. The final between Pato Loco and Polo Heads had everyone on the edge of their seats as they expected great things from Daninya (the top scorer and only Indonesian Lady player) and the Pato Loco team. However, the Polo Heads were on fire. DJ was showing his expertise from countless Regge Ludwig sessions and claiming several fouls for the Polo Heads team advantage. Rajiv was playing like Cambiaso in all corners of the field and Mario was delivering Matadorian backhand tail shots that no one had ever seen before. Captain Acep was simply brilliant leading his team down the field. In the end, all that Pato Loco Captain Novel could do was to execute a complete forward aerial somersault over the head of his horse in the final chukka and yield to the skilled performance of the Polo Heads teams. The Pato Loco team determined that their loss was because they were playing without team patron Daya Zakir on Sunday, so they will have him back on the field for the next tournament. It was a very inspirational weekend of polo, as club manager Nico Curto did not say a word to any of the teams. He said it was their time to try and organize themselves. This following week, he will be coaching the players on tactics that they might have considered and used during the tournament. All players were very grateful to Iman Kusumo (Chairman of Indonesian Polo Association) and Nico Curto (Polo Manager of Nusantara Polo Club) for a tremendous tournament and start of the 2009 season. Nusantara Polo Club became the first polo club in Asia to present the MAS CABALLERO EN LA CANCHA TROPHY to the best sportsman on the field during this tournament, surely this will become a lasting tradition in Asian Polo as the club encourages players to aspire to the highest levels of sportsmanship and gentile behavior on the field. Anyone interested in playing polo in Indonesia, please email Nico -- nico@argentinapolo.com Mobile: +6285882447034 // For any other information, please contact Ana -- ana@nusantara-polo.com Mobile: +628158079790 // • 1 chukka: IDR 500,000 (amount US$50) • Tournament fee per day: IDR 100,000 (amount US$10).

Nusantara Beginners Cup Champions POLO HEADS -- Nico Curto & his new one-nut dog "OBAMA"
BLACK DOG
1. Tom (1)
2. Yuma (-3)
3. Danny (-1)
4. J-lo (-4)
Total (-7)
POLO HEADS
1. Acep (0)
2. Mario Miguel(-1)
3. DJ (-2)
4. Rajiv (-4)
Total (-7)
THE GUARDSMEN
1. Harry (0)
2. Howard (-3)
3. Wan Zainal (-2)
4. Rudi (-3)
Total (-8)
PATO LOCO
1. Novel (1)
2. Sudar/Eko (-2)
3. Daya Zakir (-4)
4. Daninya (-2)
Total (-8)
6-8 MAR -- THAI POLO LEAGUE AT SIAM POLO PARK/VRSC
The second weekend of league play at VR Sports Club lived up to all expectations of loyal polo fans. The Black Dog team finally got to play under the capable hand of its new Captain Henry Rourke. They were swiftly defeated by VRSC, but not without a good fight led by Gustavo and Henry and equally matched by Nicolas Pieroni "the best one" and Santy Lujan. China and Vietnamese polo players traveled to Thailand to attend the Gustavo Polo Clinic and to watch the League. On Saturday and Sunday, four excellent polo matches were played between the clubs from VR and from Polo Escape. The most exciting game took place on Saturday between Harilela and VRSC, with Harilela taking an early lead, but VRSC battling back to a 2 goal victory. Several gauchos were injured over the weekend with Gerry Gan taking a fall and Tom hooking Santy's stick with his head on an early morning Saturday chukka. The exciting conclusion to the League will be held this coming weekend and it is rumored that Pengiran Rahim will be bringing a team from Brunei. For more information -- gustavo@argentinapolo.com -- The Director of the League
SCHEDULE
May 6th
16:00 -- Black Dog vs VRSC -- VRSC WON 6-4
May 7th
16:00 -- King Power vs Polo Escape -- KING POWER WON 6.5-4
17:00 -- Harilela vs VRSC --

VRSC WON 8-6


May 8

th


16:00 -- Polo Escape vs VRSC -- VRSC WON 5-3
17:00 -- Harilela vs King Power --

TIE 6-6

Henry Rourke Captains the Black Dog team -- The Gauchos try modeling Chatchaya's ladies polo hats -- New player Khun Robert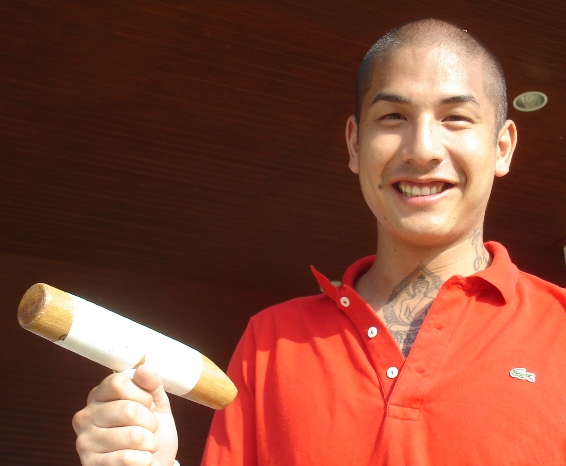 Khun Vichai showing the gauchos how to cook a steak at the "Hornito Asado" -- Khun Tew comes for his first lesson

Vamos Colombiana! -- Camille consoling some Injured Gauchos -- Sean and Dad (Mark)
13-15 FEB -- THAI POLO

LEAGUE AT POLO ESCAPE


Thai Polo League is back, and this week has been an exciting exhibition of world class polo in Thailand. The Director of The League has finally showed up and the League is in full swing now. We saw an exciting opening match between Stapleford and King Power with King Power leading 8-1 after 3 chukkas, but Curto turned on the pocho-pocho in the last chukka finishing 4-9. Saturday saw a thrilling match between Harilela and VRSC with Pepperoni, Tal, Santy and Daniel surging to a 5-1 lead in the first chukka. Then the Harilela machine kicked into action with Marco and Agustin piling on goals in the following 3 chukkas to give Harilela a 10-8 victory. The Director of the League was very pleased with the standard of play and he was even more pleased with the free hot dog that was presented to him as he surveyed the game from the sidelines. The
co-commentator was treated to a hot dog as well and so was the photographer, so all were very content with the game. The co-director of the league, Khun Ivy, was on hand to remind the Director of the league that Polo Escape was to begin with a 1/2 handicap advantage and the Director was very grateful for her kind assistance. The commentator, Peter, was in very fine form, and all agreed that he is by far the most improved commentator in Thailand. Khun Suzy was on the sidelines for this first playing of the League, because Khun Robin will be absent at the next playing. The Black Dog team was conspicuously absent on this first weekend (except for the sticker that still remains on the back of the orange Polo Escape truck). The Director had heard rumors that Black Dog won the New Years Cup and he was very nervous about meeting the Black Dog team on the field, so he thought it was better to cancel their appearance. It was no problem for the Black Dog team because Eric is still injured, Jamie is trying to fix the world economic situation, and Prince William is selling rubies in USA and UK. Khun Churo was sighted with a haircut (received 10 days prior), but no one is sure which gaucho authorized or approved this haircut, so it may not be official. No one can argue that Churo is long overdue a "haircut." Also, on Saturday, Daniel gave another speech to everybody and to welcome the Director of the League back to Thailand, and on Sunday, the Director was almost knocked off his horse in a tough battle between King Power and VR.

After the first weekend of play, the King Power and Polo Escape teams are looking very strong. The Cabellero Trophy contenders who have exhibited the most sportsmanlike and gentlemanly play thus far are: Nico Curto, Khun Noo, Gerry Gan, Khun Santy, and the two Collie brothers, but there are two more weeks of League Play to go and anything can happen. The League was started in 2008 for the benefit of players in Thailand to improve their stills by organized League tournaments between teams from the 3 TPA member clubs. Each club can submit its teams (players names and handicaps) to the Director of the Thai Polo League -- gustavo@argentinapolo.com. TPA has a beautiful trophy for the winning team in the League, and also the "Golden Ball Trophy" for top goal scorer in the league (won by Marco last year). The asado fee is charged per player as per discretion of the hosting club. At VR and SPP, this fee will be 1,500 Baht per person (alcohol is not included). Each team provides their own shirts. The League is played at a 4-6 goal level. The winning team is decided by accumulated points gained over the three weekends of play. SPP/VRSC has stables for 32 horses (500 Baht/horse/day), and additional stabling can be organized with Khun Num at GCP -- Tel: 027071535 / 0869888044. Players in the tournament are invited to donate 1,000 Baht each at the end of the League to give to all the grooms for their party. The League dates are below.
- 1st round:

13FEB-15FEB

(Polo Escape)
- 2nd round:

06MAR-08MAR

(SPP)
- 3rd round:

13MAR-15MAR

(VRSC)

Khun Tal captures enemy polo stick and goes to goal -- Pepperoni is not content -- Gaucho San Miguel watching the League Polo Action

Stapleford charge

Lucas on the Collie chase -- Shuif planning to take out the Director of the League
THAI POLO LEAGUE 2009 -- 1st week at POLO ESCAPE
SCHEDULE
Feb 13th
15:30 -- Polo Escape VS Harilela (Umpire: Gustavo, Curto) -- POLO ESCAPE WON 5.5-4
16:30 -- Stapleford team VS King Power (Umpire: Federico, Pepperoni) -- KING POWER WON 9-4
Feb 14th
15:30 -- VRSC VS Harilela (Umpire: Gustavo, Curto) -- HARILELA WON 10-8
16:30 -- Polo Escape VS Stapleford (Umpire: Gustavo, Lucas) --

POLO ESCAPE WON 7.5-3




Feb 15th


15:30 -- VRSC VS King Power (Umpire: Federico, Lorea) -- VRSC WON 8-6
16:30 -- Harilela VS Stapleford (Umpire: Jose, Lucas) -- HARILELA WON 7-4
POINT SYSTEM
Points are cumulative throughout the 3 weekends of the League -- Win: 3 points; Draw: 2 points; Lose: 1 point.
UMPIRES and TIME KEEPER
to be arranged by TPA.
HANDICAPS
The players who do not have the TPA Official Handicaps will play with a Temporary Handicap. The Temporary Handicap can be adjusted any time. Submitted by -- Pienlert Thoopphanom (Soul) -- TPA Coordinator -- Tel. 66-2-677-8888 Ext.1203
TEAM MEETING
It is requested that there be a Team Meeting 1 hour before the first game on Friday to explain the rules of play (HPA) and whether the 30 and 40 penalties are defendable. The list of Umpires and the Third man should also be presented at this time. Any questions should be submitted to the Director or Coordinator of the League.
TEAMS & PLAYERS
Polo Escape - Handicap 5


Susy/Robin Lourvanij (0)
Gerry Gan (-2)
Jose Von Potobsky (3)
Federico Von Potobsky (4)
Harilela - Handicap 6


Aron Harilela (0)
Joaquin Arrirta (0)
Marco Focaccia (2)
Augustin Lorea (4)
King Power - Handicap 6


Vichai / Noo (0)
Stijn (-1)
Gustavo (4)
Lucas (3)
VRSC - Handicap 6


Top (1)
Tal (1)
Pepperoni (2)
Santy (2)
Stapleford - Handicap 6


Shuif (-2)
Tom Collie (2)
Marcos Collie (2)
Nico Curto
Black Dog - Handicap 4


Gustavo (4)
Tom (1)
Henry (0)
Scott (-1)

Shuif's Stapleford Team and Polo Escape about to play The League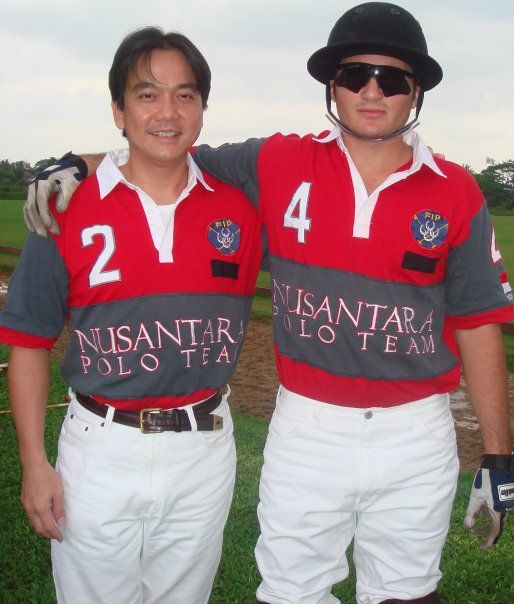 NUSANTARA - THAI POLO INVITATIONAL CUP IN INDONESIA


On 07-08 February 2009, The 4 goal Nusantara-Thai Polo Invitational was held at Nusantara Polo Club in Jakarta. It was a very pleasant weekend with many spectators. With three teams competing for the Invitational Cup. Thai Polo defeated Nusantara in the final by one goal. The standings were: Thai Polo (First); Nusantara (Second); Indonesia (Third). However, the Indonesia Team showed tremendous improvement in this test as they tied 5-5 with Nusantara and lost by only 2 to Thai Polo. Congratulations to all the competitors -- Sangat Bagoos! -- and to Manuel Cereceda for receiving the Best Player of the tournament award.


NUSANTARA POLO (3 goals)


nico curto 4
iman kesumo 0
ardi 0
augus gombong -1
THAI POLO (3 goals)
manuel cereceda 3
nat 2
daniel padin 0
howard chu//wan zainal -2


INDONESIA POLO TEAM (-1 goal)


billy barsel 0
harrysyafar 0
acep krisnandar 0
gelndy -1
SINGAPORE "HEADHUNTERS" AT SPP
On 07-08 February 2009, Yeo Kuo Lee (0) captained the "Headhunters" team with Ang Ban Tong (0) against Siam Polo Park in the Thai-Singapore Friendship Match. On Day 1, both teams drew even at 4-4. On Day 2, Yeo Kuo Lee led a determined charge onto the field and defeated Siam Polo Park 6-5. We took some time to interview with Yeo Kuo Lee to catch up on his recent polo activities.
INTERVIEW WITH YEO KUO LEE - A FRIEND OF POLO IN THAILAND
Yeo Kue Lee is a "Friend of Polo in Thailand." We sat down with him during the Thai-Singapore Friendship match and found out that he has not been sitting around.... In November, Yeo was playing with Jamie Mackay in Australia. Jamie used to be a 7 goal player; his uncle Bob Skene was a 10, and his son Jock, at 4 goals, recently played for Yeo at the Thai Open on his 10 goal team. Yeo finished 3rd overall in the Thai Open out of 8 teams. It was like an old school reunion for him playing with his old schoolmates Asad and Moiz (who is now President of Royal Selangar Polo Club).
Yeo said that he and his friends have been playing polo since the age of 13-15, and that he started playing because he loved to draw horses. In December, Yeo was in New Zealand playing at Clevedon (the Polo Capital of New Zealand) with Johnny Wade. Johnny used to be a 6 goal player. Yeo was there buying horses, and he bought 2 which are going to "Leisure Farm" near Johor in Malaysia. Yeo spent Christmas at Polo Escape and played with his three sons, who are ages 15, 12 and 10. Aside from Tanamera (the Mazlan Family) in Malaysia that plays as a family (with Dato Mazlan Harun and his 3 sons and 1 daughter), Yeo and his sons may grow into another polo-family-team in Asia. Yeo has been very active in Singapore Polo for many years. He was Polo Captain for 2 years and Committee Member for 12 years. Yeo thinks that polo in Thailand has come a long way, and as he writes to his good friend in Malaysia - "personalities and politics aside, it is a game that combines the greatest skill in horsemanship with raw horse power, and the tactics of a chess master. We are indeed very blessed to be a part of this proud tradition and camaraderie." Yeo has had many teachers. He credits Bob Skene for his wisdom, "I have learned from so many and I'm still learning." Bob Skene is well known for the elliptical "Skene Mallet Head" which allows for the mallet to get under the ball and create more lift. Yeo's other great teacher was Edward Moor -- a 10 goal player -- who changed the game of polo in Argentina. He was almost selfish with the ball; excellent stickwork, and you just couldn't take the ball from him. This is the art of ball control. Yeo shared with us that Singapore Polo Club now is installing a drainage system in their field. They have 2 dozen young members (half locals and half foreigners). His favorite shot is the offside backhand, but he broke his back in 96 or 97 when a horse reared up, so he was down for 6 months. "Polo is like walking to me, so I swam for 6 months, so I could play again." Yeo is now enjoying teaching his 3 sons about polo -- "Horsemanship" is balance; get off the mouth; use your seat and legs. "Swing" is about follow through. "Strategy" is thinking where the game is going, not where it has been. Yeo has now played at all 4 polo clubs in Thailand and even the old SPP club where he won the Ambassador Cup several years ago. He has finished second in the King's Cup and third in the Thai Open. It has been a fantastic polo experience for him playing in Thailand. He loves the hospitality and the season dovetails nicely with Malaysia and Singapore. He liked playing with Top and Tal recenly and complimented SPP on the good sportsmanship, the very fair umpiring and the friendly play. Yeo thinks the Argentineans play very well and tactical and his teammate Ang Ban Tong was their "top scorer." Yeo's secret is to eat a banana before going onto the field. The Potassium "relaxes you" and gives you energy. Thank you Yeo Kuo Lee -- cklyeo@singnet.com.sg
KUPPA WINS INTERNATIONAL LADIES TOURNAMENT AT POLO ESCAPE
On 05-07 February 2009, The International Ladies Tournament was held at Polo Escape. Day 1 with PE Blue leading; Kuppa second; PE Yellow in Third place. Day 2 with PE Blue 5 vs Kuppa 4; PE Blue 6 vs PE Yellow 4. Kuppa 8 vs PE Yellow 3. Day 3 Kuppa blazes forward and wins the International Ladies Tournament. Photographer Hugh on the scene. Visitors were welcome and drinks, snacks and Pims with coffee and Hot Dogs enjoyed by all.
Thursday, Feb 5th:
- 14:30 pm: Teams meeting, (draw, handicap, rules & regulations) teams must assist, at the Polo Shop.
- Match 1 at 3:30 pm
- Welcome Tapas from 6:30 pm till late
Friday, Feb 6th:
- Cooking School by Chef Dan Ivaries from the famous Bed Supper club and Long Table at 10:30 am (sold out)
- Match 2 at 3:30 pm
- Special set dinner by Chef Dan from 7:00pm (sold out)
Saturday, Feb 7th:
- The Finals at 3:30 pm
- The Finals Trophy presentation 6:30 pm
- Asado Party & "Flamingo" Guitar.
The ladies will be ably supported by the Polo Escape Professionals (dressed appropriately), which is going to make for fast and exciting Polo action. www.poloescape.com/News%20and%20Events.html
POLO ESCAPE BLUE
ISABELLE LARENAUDIE: -2
CHARLOTTE MARSON: -1
JOAQUIN ARRIETA: 0
JOSE von POTOBSKY: 3

POLO ESCAPE YELLOW
HENRIETTA GOURLAY: -2
KERRY LUCAS: -2
RAMIRO PELLEGRINI: 2
MARCO FOCACCIA: 2

KUPPA
ROBIN LOURVANIJ: 0
SUSY LOURVANIJ: 0
CAMILE FULLER/PANITA VONKUSOLKIT: -2
FEDERICO von POTOBSKY: 4

Gauchos at the Ladies International -- Ladies in action

Kuppa wins the Cup -- Churo takes a stick in the nose
CHINA WINS THE TRI-NATIONS CUP AT SIAM POLO PARK
On the 31st Jan and 1st Feb 2009, the first ever Tri-Nations Polo Cup was played at Siam Polo Park. Captain Jamie Woodward led his English team onto the field and played brilliantly against Captain Un's Thailand team. Gerry Gan flew all the way in from Shanghai with teammate Luca a week early, so the China team could practice their tactics at Polo Escape. Their practice sessions paid off, because the China polo team was on fire. After Saturday, China was leading by one goal over Thailand, but Thailand was beating England
by one. On Sunday, England put the mallet to the ball and tied the game with Thailand 7-7. However, China used a Jean Wang "Dzo Ba!" tactic and defeated England 6-3. It was Thailand's last chance to put China out of action. Down by one, Thailand evened the score with Khun Un and Pepperoni firing relentlessly. Lucas asserted that he just wanted to play a friendly game, because his back hurt. But it was Gerry Gan in a true John-Wong-style-charge who put China's winning goal on the board with a 6-5 victory over Thailand. The brilliant Three Horses Tri-Nations Cup was awarded to China by Khun Un's father. Thailand finished second and England in a close third. Jamie will be back, now that he is warmed up, for the Thai Polo League. After the polo on both days, the "Hornito Asado" was in full production cooking steaks on the side of the field. Khun Daniel did an outstanding job organizing this tournament and everyone was very happy with the polo, the horses, and the asado. Khun Un was updating us on the progress of his Chiangmai Polo Club and the progress with the Thai Army Polo team. Luca has signed up for a polo expedition across Vietnam by motorcycle with gauchos Stan, Tom and Eric. Gerry will be back to play in The League and he has also promised to organize a China Cup tournament at SPP where they will bring in their new China Team shirts and bring in a custom-designed China Cup to hold at SPP. We also would like to thank Tomi Lockey for granting us on an interview on the work of the Farrier and we will bring this fascinating subject to you soon.
Results: England-Thailand: 7-7. China-England: 6-3. China-Thailand: 6-5. Winner: China

China (Daniel, Lucas, Gerry, Luca) - Thailand (Nico, Tom, Noo, Un) - England (Paitoon, Tomy, Jamie, Santy)

Daniel demonstrating the "around the back" shot - Santy on attack

Nico dancing with Lucas - Jamie looks downfield


Khun Un's Dad presents the Tri-Nations Cup to China - Santy accelerates towards goal
CHINESE NEW YEAR CUP

A sudden tournament was organized at SPP on 24 &25 January 2009 over Chinese New Year. Stijn flew in with his new haircut. Tal joined on the Saturday and then Sunday Stijn's team dressed in Black Dog shirts (Pepperoni, Stijn, Santi, Paitoon) defeated SPP 8-7 over 5 chukkas. Following the polo on Saturday, there was another paintball war. This time there was a team of bachelors (Santi, Tom, Daniel) versus a team of couples (Pepperoni & Flaca, Stijn & Hema). The first chukka lasted only minutes as the bachelors took out Stijn and Pepperoni and then slaughtered the two girls to capture la coca. However, their over confidence soon took its toll, as the second chukka, Tom and Santi ran out of bullets and Pepperoni took the coca. The last Chukka was almost time expired, but the couples won.

OTHER NEWS:

Khun Daniel is just back from Chiang Mai where he was attending a conference for all the equine vets in Thailand to perfect and share techniques about the proper use of ultrasound for treating horse injuries. Khun Daniel was the only gaucho to attend the conference, but he was very pleased to be there and he said that he learned very much from the French professor who flew in for the training. Daniel also went to visit the Elephant hospital in Lampang and he did not find any techniques at the elephant hospital that related to treatment of the polo horses, but he enjoyed the visit. There is now a rumor that Cabeza Grande may be coming on 01 Feb or 06 Feb, but we do not know... The Bach-a-mann was sighted on Koh Samet with Pepperoni recently and all was peaceful. Eric Barthe is still in Obamaland and his leg still hurts, but he is missing the polo field and now that Obama has been inaugurated, he wants to get back on the field soon. Nico Curto is now back in Indonesia and getting everything ready for his participation in Thai Polo League.
"WAN DEK" & STIJN HAIRCUT CUP
Wan Dek is Children's Day in Thailand. It is one of the most entertaining holidays of the entire year, because everyone takes time out for their children and takes them to fun events. SPP hosted the "Wan Dek" Cup on 10 Jan 2009 with SPP member Stijn visiting from Singapore. Stijn was recently married to Hema, and the gauchos generally give a haircut to those who get married or change a horse. It was Stijn's turn -- especially after Hema previously politely requested an extension until after the wedding. Many new polo students were at the club to get a lesson from Professor Pepperoni and we saw Mike on a horse for the first time. Stijn's SPP team won on Saturday, and then on Sunday drew even. Following the Sunday game, all members, gauchos, and new students gathered around as Hema was honored to make the first cut on Stijn. Everyone followed and Stijn was the most patient and polite haircut recipient we have ever seen. Following the haircut, Khun Tal presented Stijn with his SPP Temporary Membership card and everyone proceeded to the VR field to watch 4 more chukkas of polo and then a delicious asado "on the field" with the new SPP "Hornito." It was a great weekend of polo and fun. We look forward to seeing our new polo students Dave, Terry and Mike again soon.
BRDB-ELEVATION WINS THE THAI OPEN
09 Jan 2009 was the start of the Thai Open at Thai Polo Club. This year, there were 7 teams competing -- Lasarita, BRDB-Elevation, Bungaraya, Royal Pahang, Carnoustie Lions, Thai Polo, Chimpfunsi, and Headhunters. Matches were held every other day starting on Friday 09Jan, Sunday 11Jan, Tuesday 13Jan, Thursday 15Jan, with the final on Saturday 17Jan. Marco from Polo Escape was playing for Head Hunters Team: Yeo Kuo Lee 0, Sattar Khan 4, Jock Mackay 4, Marco Focaccia 2. They played on 4:30pm Friday and they won 11-3.5. The Pattaya Mail reported that "The BRDB-Elevation polo team cantered away with the winners' trophy in the Mercedes-Benz-B.Grimm Thai Polo Open 2009, which was played to a conclusion last Saturday, January 17 at the Thai Polo & Equestrian Club. The tournament, for H.R.H Princess Maha Chakri Sririndhorn Cup, was organized by Harald Link, Managing Director of B.Grimm Company, and began on January 9 with eight international battling it out with mallet, ball and horse to see who could claim bragging rights for the year. Last Saturday saw the final showdown as the BRDB-Elevation team (handicap 9) faced off against the Malaysian open champion La Sarita team (handicap 10) in the concluding match. BRDB-Elevation were led by their captain Satinder Garcha and included experienced players such as 2008 champion Dato Mohamed Moiz, Shaik Reismann and Edham Shaharuddin. La Sarita, for their part, could boast star riders such as Quzier Ambak and Argentinians Diego Uranga and Gaston Otamendi in their ranks, under the stewardship of their captain Asad Jumabhoy. Hundreds of spectators turned up to enjoy this year's event. The final was a closely contested affair with some great polo and fine horsemanship shown by both teams. Eventually BRDB were able to squeeze ahead and win by the narrowest of margins with a scoreline of 6½ - 6. The cup was presented to the winners by H.R.H. Prince Abdullah of Malaysia and Privy Councilor Palakorn Suwarnarat. Harald Link was very pleased with this year's event, saying that, 'we have held this competition for six years and this is the third being held at the Thai Polo & Equestrian Club which attracted more and more attention from the public. Hundreds of guests came this year to the tournament which was free of charge for everyone to have a great time. We are hoping to have more world class polo competitions like this in the future and that one day it will be widely accepted by the Thais and a Thai national team may be introduced. The profit of this event will go to the Chitlada School,' he said. A high-society cocktail party with live music from the Bangkok Symphony Orchestra and shooting fireworks followed the matches, to once again bring down a colorful curtain on this fabulous yearly event presented to the winners by H.R.H. Prince Abdullah of Malaysia and Privy Councilor Palakorn Suwarnarat." Aron hosted a tremendous -5* Supperclub party after the Open and all the gauchos were able to watch chukkas between Pakistan and Australia late in the evening outside the supperclub. Aron said that Pakistan definitely won the chukkas, but India took some accidental hits....
PAINTBALL OPEN -- THAILAND VS ARGENTINA
It was all out war between Thailand and Argentina on the evening of 06 Jan 2009 at the first ever Paintball Polo Competition organized by Khun Ploy. The rules were "Jugando por la coca" as a Coke bottle was placed at either end of the field. Khun Ploy captained the Thailand team and Flaca captained the Argentina team. Argentina took the first chukka by pure stealth as they sat in their defensive position and sacrificed their vet Khun Daniel on a side flank maneuver. Khun Dang was shot by Lucas directly between the eyes with Khun Gung and Khun Kirk left in shock. Pepperoni and Facundo were also shot and Khun Soul and Ploy were left to defend the bottle. Thailand lost the second chukka in the 9th minute as their team players dwindled. It was time for a change in tactics as face masks fogged up quickly, and the Thailand team adjusted to the Argentine tactics. Led by the legacy of the great Prajow Taksin, Thailand led a "toop mau kow" charge and won the third chukka to bring the score 2-1. It the final chukka, two members retired from each team, so it was a lean and mean four against four. Argentina did not alter their tactics, they sacrificed Daniel down the right flank, then Thailand led a charge down the left flank for the coca. There was some controversy, as the Argentine team claimed that a foul had been committed and that they had shot the number 1 player. However, the third man proclaimed that there was no foul, and the paintball open finished at a 2-2 draw. It was a very good Birthday partido for Khun Daniel. This weekend Daniel will go to Chiangmai to visit all the vet students who were previously at VR. We will bring more details on this later.
PROFESSOR PEPPERONI ON THE FIELD
Henry Hatton is 16 years old from Dublin, Ireland. He has been visiting his grandparents in Hua Hin. He is a -2 goal player and has played at Waterford, Ireland for one month. He contacted Professor Pepperoni at SPP to take some polo lessons during his visit. This meant, that he had to wake up at 4am and travel from Hua Hin to SPP, and start at 7am. He took three lessons with Professor Pepperoni, and he was very pleased with his lessons. We asked him what he learned from the professor and he told us that he learned to "squeeze with the knees" and "keep your head over the ball." He said that professor Pepperoni's English was very good, and that he told him many times -- "very good." Professor Pepperoni also told him "you go to push" and "concentrate" and he also asked him many times, "are you tired?" Henry said that polo in Ireland is mostly muddy, because they get a lot of rain there. They have half a dozen clubs in Ireland. He appreciated learning from his polo professor about the ride off, hooking, and hitting nearside. Henry looks forward to coming back again soon for another lesson with Professor Pepperoni -- choh@hotmail.com
CAMILLE AND JOHN WONG LEAD SPP TO NEW YEARS CUP VICTORY AT POLO ESCAPE
On the 3rd and 4th of January 2009, the earth trembled at Polo Escape. The four teams of Kuppa, Polo Escape, Adamas and Siam Polo Park competed in the 2 goal New Years Cup tournament, and no one had any idea what lay ahead. The first day, saw a very close victory for Kuppa over Adamas 8-7 with Paul Cheung scoring two beautiful goals, and Siam Polo Park defeating Polo Escape 5-1. The finals on Sunday, left everyone on the edge of their seats as the first game for 3rd and 4th place between Adamas and Polo Escape was a 3-3 draw. Then when Siam Polo Park took the field with Kuppa, everyone was expecting Aron Harilela and Federico to tear up the field, but they were in for a great surprise, because Eric Barthe had led the SPP players and vet Facundo on an expedition the previous night to El Molino Abierto, and they were all in very fine form the next day. Lucas missed three 60 yard penalties in a row and another shot in front of goal. Tom missed two shots in front of goal. Eric nearly had his leg broken by Federico's under-the-neck shot, but it was a flash of lightning at the far end of the field with three seconds left on the clock in the last chukka that brought SPP even and then to victory due to goal difference. The flash of lightning was none other than the legendary marathon umpire from China and 13 year committee member of Singapore Polo Club -- Mr. John Wong. John (and especially his wife) thought that he had retired from polo 5 years ago, but he kindly and quietly agreed to assist SPP for
a couple of chukkas with Camille Fuller. Tommie Lockey also was recruited at the last minute on both days to help SPP, and they all played brilliantly. Each of these players scored a goal for the SPP team, but it was John Wong, the 55 year old lightning bolt, that reminded everyone that old polo legends never die. Federico was scoring for Kuppa from all points of the field, and Lucas was shouting "escucharme" to everyone on his team (but no one on his team could understand what he wanted them to "listen to" because they didn't speak Spanish). Tom stunned all players by backing a beautiful pass from Lucas all the way back to him, because he saw Manchester United do this on TV and thought it might surprise Federico, who was barreling down on him. It worked brilliantly, but Lucas was so shocked to see his pass come back, that he forgot about the line and made a foul. Khun Patpat is in training for the future CEO position at Polo Escape and played a very solid game for her home team. Robin and Suzy and all the Polo Escape staff organized a very nice tournament with excellent communication and a delicious dinner on Saturday. Khun Dang and Dave Floyd came to manage and coach the SPP team and Peter and Ivy were on hand to lighten the evening. Thanks to Khun Vichai and Khun Daniel for their support to bring the SPP team to Polo Escape, and thanks to Jaime Miranda for returning to the field after too long an absence -- the Gallego is back.
POLO ESCAPE
Susy Lourvanij / Patpat: 0
Jonathan Lloyd: -1
Joaquin / Bruno Zoppi: 0
Jose von Potobsky: 3
KUPPA-HOLIDAY INN
Robin Lourvanij: 0
Aron Harilela: 0
Gerry Gan: -2
Federico von Potobsky: 4
ADAMAS
Paul Cheung: -1
Jaime Miranda: -1
Ramiro Pellegrini: 2
Marco Focaccia: 2
SPP
Camille / John Wong: -2
Eric Barthe / Tom Lockey: 1
Tom Claytor: 1
Lucas Lujan: 3

All four teams sharing the New Years Cup 2009

Lucas with the ball -- Gallego back on the field for Adamas -- Tom and Aron -- Camille and Eric
POSTPONED

-- THE COMBINATION CUP


One of the most unique polo tournaments played anywhere in the world is the Wan Dek Combination Cup at VR Polo Club. This event brings even the most talented polo players to their knees. The stakes have been increased this year, as a third event has been added -- shooting! Khun Vichai is training furiously for the shooting and golf sections almost everyday. Players form teams and compete for points on the polo field, the golf course, and now the shooting range. The golf is hilarious, as last year Terramoto Santos Anca destroyed the ball and sent it many times into the lake. This is a cup combining all the skill and grace you can master. Stay tuned as there will be a lot of action to update during the Combination Cup. If you want to join -- email TPA -- tpa@siampolonews.com
PAISANO! -- LA HISTORIA OF PAISANO ANDRADA
We are researching the history of one of polo's most colorful characters -- Manuel Andrada El Paisano. At first, he wasn't allowed to play polo. Then he could play, but with no stick. He was told to "just take the man." Then one day, they gave him a stick, and in his first game, he scored 12 goals. In 6 years, he went from 0 to 9 goals in Argentina (and 10 in the rest of the world). He won the Argentine Open 6 times on 6 different teams. He won the 1936 Olympics in Berlin. At age 74, he was still playing off 4 goals. Now the Paisano Polo Club has been opened in Rio Cuarto, Argentina. We are going to bring you this story and photos soon...



IN SPANISH

La Copa República Argentina - Una tradición de tres generaciones - Juan Manuel y Agustín Andrada, los bisnietos del Paisano, ganador de la medalla de oro en Berlìn en 1936, jugaron su primer partido en Palermo El desenlace final de un partido en Palermo no es habitual; Agustín Andrada, con su equipo Río Cuarto El Paisano, acaba de perder 30-1 ante Saladillo en la cancha 1. Sin embargo, el chico de 17 años no puede desdibujar ni un segundo la sonrisa que le cubre el rostro. "Tuve una emoción enorme cuando vi el cartel con la formación del equipo. No lo podía creer". ¿Qué había de especial? Además que su nombre y el de su hermano Juan Manuel (22) figurasen por primera vez en ese cartel histórico, hay un detalle mayor: son bisnietos de Manuel Andrada, inmortalizado para la historia con el apodo de Paisano, integrante del equipo argentino olímpico de polo, ganador de la medalla dorada en los Juegos de Berlín, en 1936. "Después de tantos años el apellido volvía a estar en el cartel", decía conmovido Agustín, integrante del equipo que se completó con Ignacio Tejerina y Martín Echeverría. El fantasma de Manuel Andrada sobre vuela Palermo. Una de las tribunas de la cancha 2 lleva su nombre y, además, en el estadio se eleva orgulloso el Roble Olímpico, el árbol que él y sus tres compa
ñeros de la conquista de Berlín, Luis Duggan, Roberto Cavannagh y Andrés Gazzotti, con Andrada como back, trajeron de la Selva Negra alemana y lo sembraron en el Campo Argentino. "Yo soy el nieto del Paisano", se presentó orgulloso Juan Manuel, que oficia de coach en el equipo de los dos bisnietos. "En mi casa de Río Cuarto tengo todos los recortes de mi abuelo de El Gráfico y LA NACION; cuando triunfó en Berlín y de las crónicas de los seis títulos que logró en Palermo" (N de R: ganó dos con Santa Paula, y uno con La Rinconada, Tortugas, Los Indios y El Trébol). "Y perdimos", resumió Juan Manuel (h.) luego de la paliza, pero, paradójicamente, remata: "Tengo una línea menos en la agenda. Acabo de cumplir un sueño". No importa la derrota. Tampoco el dinero perdido. Papá Juan Manuel cuenta: "La remamos mucho, bien de abajo. Perdemos mucha plata en esta semana de la Copa República. Por suerte la AAP nos ayudó con el flete. Y creo que notaron nuestro entusiasmo y nos dejaron la cancha 1, cuando creo que nos tocaba la 2". La Copa República permite enfrentar a equipos débiles con fuertes y establecer la diferencia de handicaps para emparejar el juego. Es como si Boca enfrentase a Sacachispas y comienza perdiendo 5-0. A veces, en el polo vencen los Sacachispas. Esta vez, los 18 goles iniciales en favor de Río Cuarto no sirvieron: en la ventaja, Saladillo ganó 30-19 (30-1 en el abierto), en un partido por el Grupo C. Del partido en sí no hay
mucho por decir. Loro Piana tiene al mejor patrón del presente, el italiano Alfio Marchini, que ganó este certamen el año último, más la experiencia de Milo Fernández Araujo y el entusiasmo de dos promesas como Martín Espain y Agustín Nero. Y, por supuesto, muchos mejores caballos: "Le tuvimos que dar uno al árbitro y nos quedamos con 20 para todo el equipo... para todo el torneo", comentó el coach. A los 2m07s del quinto chukker, con un gol de Milo Fernández Araujo, Saladillo pasó al frente por primera vez y se puso 20-19. Sí, hubo un gol de los perdedores, a los 2m20 del primer parcial. "Yo tiré el backhander y por suerte entró", dijo Agustín, siempre sonriente. Y con el orgullo de mantener encendido un apellido glorioso para la historia del polo. (Por Carlos Beer).
CHRISTMAS CUP AT SPP
On Day 1 of the Christmas Cup, 27 December, Adamas defeated SPP and VRSC defeated Black Dog. On Sunday the 28th, SPP securely defeated Black Dog to claim victory for possession of the EXPEDITION CUP. We then saw a very exciting final between Adamas and VRSC. Lucas led the VR team to a 5-0 lead by the end of the 3rd chukka, but a reinvigorated Adamas team came back with 4 goals in the 4th chukka and Lucas getting one more to give VRSC a 6-4 victory for the coveted CHRISTMAS CUP. There were come controversial umpire calls, but the final was one of the most exciting polo matches that we have seen this year. We would also like to thank Federico for the most "Caballero" game we have ever seen him play, as he did not question any of the umpire's calls and was a very quiet player. Facundo Pieroni was on hand to present the Expedition Cup in honor of Cabeza's new forthcoming son. Andrew Collie did not show up for his place on the Christmas Cup, so Khun Scott kindly took his place. Gerry Gan played like Cambiaso for the SPP team and enjoying every minute of it. Recent visitors to the club have been Charles Schmidt (-1) from San Diego Polo Club (arriving 20 Dec) and Simon Graham (-2) from New Zealand. Daniel Yanez promised not to make the speech, but he did say some words. Scott brought new polo potential players Oliver, Mike and Jeff (the MTV host in Singapore who helped with the commentating). Khun Paul is going for a Triple Crown Victory for Adamas at the Polo Escape New Year's Cup. Jaime Gellego Miranda was on the side of the field with his lovely 4 month pregnant wife, so we were pleased to see him back.
SPP
Santi Lujan: 2
Pepperoni Pieroni: 2
Apichet Raksriaksorn: 1
Gerry Gan: -2
Total: 3
ADAMAS
Paul Cheung: -1
Sean Longstreath: -1
Marco Focaccia: 2
Federico von Potobsky: 4
Total: 4
VRSC
Vichai Raksriaksorn: 0
Lucas Lujan: 3
Aiyawatt Raksriaksorn: 1
Noo: 0
Total: 4
BLACK DOG
Eric Barthe: 1
Tom Claytor: 1
Tsu: 1
Scott: -2
Total: 2

39 gauchos, grooms and vets on the SPP Christmas expedition to Lat Krabang (sponsored by Khun Meaow and Mitavite)

Gerry Gan receives his new temporary membership card from Khun Tal -- The Winners of Christmas Cup 2008 (VRSC) -- Photo Team

SPP polo team receiving the Expedition Cup from Facundo -- Adamas Team

Jaime back on the field (with a bun in the oven) -- new enthusiasts (Mike Poonpipat, Jeff, Oliver) -- Black Dog team with new dogs.
GUSTAVO SAYS, "POLO PLAYER COMING" -- PREPARE FOR THE EXPEDITION CUP
NEWS FLASH: The gauchos promised to sponsor an Expedition Cup, and so it has come to pass. Gustavo Yanez, the Polo Manager at VR Polo has finally completed the mission -- and a young male polo player should be arriving sometime in the next 4 months. Cabeza has two lovely daughters, but a young son was proving somewhat elusive. The good news arrived just before Christmas that Maria is carrying a son, and now the gauchos will have to live up to their promise and host the Expedition Cup in his honor. Note: Cabeza was coming dangerously close to having to host the Barbosa Cup, but we are pleased that he has been taken off the hook. We still don't know when Cabeza will return to Thailand, but we will let you know when we know.

Khun Ploy returns to the polo field during her school break
ANG BAN TONG LEADS SPP TO VICTORY
On 16 December, Singapore Polo Club member, Ang Ban Tong, came to play at Siam Polo Park. He was playing with Pepperoni, Santi and Daniel Yanez. No one was prepared for Ang's 6 goals scored against the VR team as he led his team to a 9-5 victory. Lucas is still shaking his head in disbelief. Fellow VR player, Eric Barthe, has been training at California Wow two hours a day with his boxing trainer and with his slim Pilates instructor, and he was also amazed by Ang's shock and awe tactics on the field. Eric has promised us a picture of his Pilates instructor, and we are going to interview him to find out just exactly what Pilates is and how this is improving his polo.
VETERINARIAN STUDENTS FROM CHIANGMAI LEARNING AT VR
Khun Daniel has a lot to smile about these days. He has 4 visiting 6th year Veterinary Students from Chiangmai University visiting VR and learning hands-on about working with horses. Students Kung, Queen, Hung and Pom (in pink) are pictured here with smiling Yanez and Adjan Oh (in blue) and Hermana Kuat (in green). Dr. Kuat graduated from the same program in Chiangmai and has been guiding the students through their field introduction to horse work. All of the students are interested in specializing in horse veterinary care and will be at VR until after Christmas.
GUNG TAKES THE TINTIN CUP
The first official TinTin Cup of the season was played on Monday 15 December at VRSC. Monday is a day of rest for the gauchos, so it is a good chance for them to work on their golf. The previous week, they had their first foray on the golf field, and they thought they were ready for the cup. However, Gung reminded them that just because they can hit a polo ball at full gallop on a horse does not mean they are qualified to hit a golf ball. The great surprise was Santi, who has perfected the picardia of hitting a tee next to the ball before he swings for real, and it was working pretty well for him. The gauchos saluted Khun Gung for defeating all of them and are looking forward to the next partido, so they can continue training for the Combination Cup. The 9 hole TinTin Cup was followed by at game of Teq (won by Santi), a pizza, and a Lat Krabang expedition to "The Rock." (TinTin scores: Gung33, Tom35, Santi41, Daniel88, Lucas99).
ENGLAND DEFEATS SCOTLAND AT 2008 WORLD ELEPHANT POLO CHAMPIONSHIPS IN NEPAL
From 30 Nov to 06 Dec 2008, the World Elephant Polo Championships were held at Tiger Tops in Nepal. In a hard fought final, the world renowned Chivas team began with a 4 goal deficit on handicap. During a fascinating encounter, England employed a stalwart defensive strategy, encouraging the Scots to attack at will which the Chivas team duly set about doing by launching one relentless wave after another throughout an intriguing first half. However, as hard as the Chivas Scotland triple world champions drove forward, they appeared jinxed not to score - missing the goal by a whisker on over 6 occasions as their hit man Peter Prentice latched on to a plethora of well struck through balls from Raj Kalaan & the Duke of Argyll in midfield. The second half witnessed more of the same, as Englands dogged defense continued to suppress the increasingly frustrated Scots. The Air Tuskers then nailed the match with a late break-away goal scored by rookie David Assad of Equestrio magazine. It was a defensive display by the English to match any of the finest sporting rearguard actions over the years - and the sort of inspiration that Martin Johnson would so love to see emulated by his young England rugby team.
CHINA POLO TEAM COMING TO THAILAND -- JAN/FEB 2009
Nine Dragons Chairman, Steve Wyatt, has announced that he is bringing a China team to terrorize the polo fields of Thailand in January or February 2009. He also wants to find out what is going on with Churo and the Camel. Many who have been following the polo action in China are aware of the vast wealth of polo talent residing in Shanghai and Beijing and Vietnam. Many of the Chinese players have joined SPP for the first Beginners Tournament of the year. Now, they are planning a comeback. SPP announced that they will have a special RED DRAGON CUP in honor of our China guests if the Chinese gauchos are up to the challenge. Stay tuned and we give you more details on the exciting China visit which will probably tour all three of the active polo clubs in Thailand.
ENGLAND DEFEATS ASIA AT THAI POLO & EQUESTRIAN CLUB
On 13 December, there was an exciting polo match between a team from England with veteran Andrew Hine and a team from Asia with the Thai player Nat, the Singaporean player Satinder Garcha, and Tengku Shazril and Shaharuddin from Malaysia. It was exciting international action which saw England up by 6-2 after two chukkas. The final bell rang the victory to England with a 10-6 score and a very entertaining polo afternoon hosted by Khun Link at Thai Polo & Equestrian club. Our action photographer HD was live on the scene to share all the action with us.
JAMIE WOODWARD RETURNS TO THE FIELD
Polo Action on Pearl Harbor Day at VR saw Black Dog Polo legend Jamie Woodward return to the field. Young son Tom was seen on the sidelines with a polo foot mallet in hand. We understand that Tom has been taking riding lessons in Bangkok, so it will not be that long before we see him on the field. Jamie was on form, and the match ended in a tie 5-5. This was the third consecutive tie at VR for the past three meetings. Jamie has promised to command the Black Dog team in battle later this season as soon as the financial markets settle down.
SIAM POLO PARK -- NEW FEES 2008


=
NON-MEMBER - Welcome - Please sign Liability Waiver Form
CHUKKAS - 4,000 Baht
STICK & BALL - 3,000 Baht
POLO LESSON - 3,500 Baht
*please book 3 days in advance - Email Siam Polo Park
*currency conversion from Thai Baht
=
MEMBER - 40,000 Baht (per season) - Membership Form
CHUKKAS - 2,000 Baht (per chukka)
STICK & BALL - 1,500 Baht
POLO LESSON - 2,000 Baht
*Honorary Member - 2,000 Baht (per chukka)
=
STUDENT - 10,000 Baht (per season) - Membership Form
CHUKKA - 1,000 Baht (per chukka)
STICK & BALL - 1,000 Baht
POLO LESSON - 1,500 Baht
*Thai/Foreign undergraduates less than 23 years age studying in Thailand.
=
Stabling for horses is 16,500 Baht/Month (includes stable, food, shoeing, groom, bedding). Vet charges are additional costs (if needed). The stables will be ready on 01 Dec 2008. Horse truck transfer costs are 7,500 Baht (for 1-5 horses).
=
Siam Polo Park is now 20 minutes from Suvarnabhumi Bangkok International Airport. Everyone is welcome. You do not have to be a member to come and play. Please contact 3 days in advance if you would like a polo lesson or stick & ball. Members will receive a laminated Siam Polo Park card with their TPA polo handicap on it. If you have any questions, please call Khun Dang -- 0818136673 (+66818136673) -- Email Siam Polo Park
=
SOMETIMES THE GAUCHO NEEDS A LITTLE HELP
Recently, the gaucho Pepperoni was having a little domestic trouble. Sometimes this happens with the gaucho far away from the Pampas, but the clever gaucho always has a picardia. Pepperoni conducted a mission to chatuchak market in Bangkok and came back with "San Miguel -- El Salvador." This was the perfect solution to pepperoni's foul, because Flaca's eyes filled with tears as she hugged Miguel and said she would not leave for Argentina on the next flight. Miguel is now a resident gaucho at the VR polo club. In addition, Miquel has been assigned the position of Honorary Patron of the Black Dog Polo team. The Black Dog team members have noted that most polo teams have patrons, so they have appointed Miguel to this task. If anyone wants to meet "Miguel," they can make an appointment with Flaca who also has many pairs of alpargatas to sell for US$20 each -- flaca@argentinapolo.com
SIAM POLO ACTION IN MENDOZA


We recently learned that Cabeza has been playing in Mendoza with former Siam Gaucho Federico Rosales. Not only that, he made it to the finals and was playing against another former Siam Gaucho Gonzalo Yanzon. Cabeza and Federico's team won the final. Cabeza got about 8 goals and was awarded the MVP gaucho award and lots of Mendoza wine. For more information in Spanish -- http://www.losandes.com.ar/notas/2008/11/24/deportes-394401.asp -- Congratulations Cabeza team.
PLAYERS TOURNAMENT AT POLO ESCAPE
The weekend of Saturday, December 6th & Sunday, December 7th Polo Escape hosted the 0-1 goal Players Cup. There were a host of new players on the field thanks to the recent re-opening of Bangkok's International Airports with the Dubai team bringing in their ringers Dennis Guillois from Saudi Arabia and Michel Nseir from Dubai, and Kuppa fielding Thomas Ristic the secret weapon
from Germany complete with 6 new sticks in 3 different sizes. Matches started at 16:00. The Order of the matches: KuppA-Polo Escape-Dubai. Rules were as per HPA. The new Communications Manager at Polo Escape, Khun Susy, announced that: "We will keep records on scores and post on our notice board every day, also we will award the MVP (Most Valuable Player) to the one score that scores the most. There is no entry fee for this tournament, players just pay the mounting cost. We also will have Asado & Pasta on Satruday night, anyone wishing to join the dinner please inform by Saturday 12:00 noon, the cost is Baht 1,500. You buy your own beer and wine soft drinks from the bar." The event was a great success with Polo Escape winning the tournament, Dubai in second place and Kuppa in Third place.
DUBAI

Dennis Guillois:0, Sean Longstreath:-1, Bruno Zoppi:0, Ramiro Pellegrini:2, Total:1


POLO ESCAPE

Susy Lourvanij:0, Michel Nseir:-2, Joaquin Arrieta:0, William Roberts:2, Total:0


KUPPA

RobinLourvanij:0, Panita Vonkusolkit:-2, Thomas Ristic:-2, Federico von Potobsky:4, Total:0
WATCH HOW WE MADE IT
Khun Santi has shared with us the music video about the making of Thai Polo Club
GREAT SUCCESS AT POLO ESCAPE -- AMBASSADORS CUP 2008


ADAMAS

(6) - Paul Cheung(-1)(Patron), Saffik bin Mustaffa(0), Lucas Talamoni(5), Shaik Reismann(2).


CARNOUSTIE LIONS

(5) - Jagdeep Kairon(0), Zahan Kapoor(-2), Major Ravi Rathor(3), Shah Qubilai Alam(4).


KING POWER

(6) - Aiyawatt Raksriaksorn(1), Tanasin Chuwangkham(1)/Santiago Lujan, Apichet Raksriaksorn(1), Lucas Lujan(3).


KUPPA

(6) - Aron Harilela(0), Robin Lourvanij(0), Willy Roberts(2), Sattar Khan(4).


NUSANTARA

(5) - Novel Momongan(1), Harryfar Syafar(-1), Marco Focaccia(2)/Nicolas Pieroni, Nicolas Curto(3), Prabowo(Patron).


POLO ESCAPE

(5) - Susy Lourvanij(0), Waqas Khan(-1)/Sean, Churo Pellegrini(2)/Tom Claytor, Federico von Potobsky(4).

No effort was spared in preparation for this year's Ambassadors Cup held on 20-22 November 2008 at Polo Escape. Khun Suzy and Khun Robin and the staff at Polo Escape worked overtime to bring to Thailand one of the premier polo events of the year. In fact, this year was so special that they had two Ambassadors on hand to deliver the exalted cup -- Their Excellencies Felipe and Thawatchai honored the event by presenting the Ambassadors Cup to the winning team. The battles on the field were spectacular. DAY ONE - Saw King Power and Polo Escape go into overtime in what was truly a historical game of tactics and leadership between Federico and Lucas with King Power winning by a Golden Goal. The Carnoustie Lions had a tremendous game against Indonesia that left everyone wondering if they might be the team to watch. Kuppa was playing extremely well under the able hands of Sattar and the Prince, with Robin and Aron firing lethal shots into goal, but Adamas were too much for them to handle. DAY TWO - Polo Escape trounced the Carnoustie Lions in an upset of very exciting polo with Waqas and Suzy firing goals at blistering speed. King Power suffered a loss to the dynamic yellow Adamas team led by Lucas
Talamoni on several field length charges along the boards. A very exciting game between Nusantara and Kuppa saw Pepperoni replace Marco and fantastic passing with Nico Curto. DAY THREE - The final: King Power played Kuppa and won. Nusantara played Carnoustie Lions and won by one goal after Carnoustie missed three penalty attempts in a row in the final minute of play. Polo Escape battled Lucas and the Adamas team for a breath-taking back and forth game. Suzy and Waqas scoring critical goals. Lucas and Federico played very physical games and the spectators were amazed by the tactics and horsemanship on the field. In the end, it was Adamas who took the cup, and a stunning tournament hosted by the home teams of Kuppa and Polo Escape. The Polo Escape team was especially interesting, because with all 6 of its players, it was the largest polo team to assemble on the field in the history of Thai polo. Suzy is to be commended on her generosity and desire to include so many
players on her team. Khun Peter and Khun Gladis were on hand to provide inspiring comment from the edge of the field. Dara Williams brought all her fashion, grace and polo mallet umbrellas to the sidelines. Mario from Horseshoe Point was there as well as Rege Ludwig and special visitors from Thai Polo & Equestrian Club. The entire TPA staff showed up for the final. The dinner was outstanding with every imaginable wine, spirit, and manner of steak and seafood. The band brought everyone to their feet. The Tango presentation from the Argentine Embassy was beautiful, and His Excellency Felipe pirouetted across the floor for a Tango demonstration that showed how hard he has been training with the Tango dancers in Bangkok. The event was a great success in no small measure thanks to the generous sponsors -- Mitavite, Singha Beer, Argentine Embassy, RXG, Pimalai Resort, TPA, Heritage Estates, Nustantara Polo Club, Kuppa. Also, most gauchos and spectators had severe whiplash from the plethora of beautiful girls that perched along the grassy slopes. Khun Mimi was looking especially glamorous and stunning, but suddenly disappeared when she found out she was appointed to deliver the "winning kiss" to the entire winning team. The most important outcome from this year's Ambassador Cup is that the success of different clubs hosting events was clearly demonstrated, and everyone is looking forward to the next collaborative polo event. Thank you again Polo Escape for a wonderful polo weekend. Pattaya Mail Article of the Ambassador's Cup

Aron enjoying the Ambassador Cup Party

Churo and Camille at rest -- Lucas trabajando gaucho

Rege Ludwig came to see his former student Suzy in action -- Nico preparing for the "pocho-pocho" -- Robin and Paul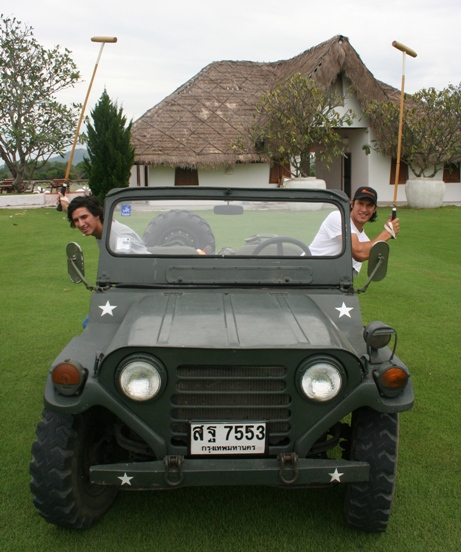 SIEMPRE CABALLERO EN LA CANCHA
The gauchos Lucas and Santiago Lujan are working at VR sports club and Siam Polo Park this polo season. They are also learning English with Khun Gung and Khun Dang. Lucas was playing in Thailand last year, and this year brought his brother to play. We interviewed them for the gaucho page, and learned that their father Oscar was a great polo inspiration for both of them. Lucas told us that their father always used to say to them "siempre caballero en la cancha" (always be a gentleman on the field). We really liked the ring of this and thought it would be a good philosophy to share with everybody in Thailand. So, whichever cancha or otra cancha you are on, remember -- siempre caballero (con o sin capoche!). Thank you Lucas and Santiago for sharing this with us.
THE BEGINNERS CUP

- view photos
On 08-09 Nov 2008, the skies were black with rain pouring down on Suvarnabhumi and over most of Chonburi, but by some miracle the heavens parted and the storms split to the North and South and the first polo match was held on the new SPP field. There were many new faces as players came from as far as Vietnam, China, Singapore, England and USA to attend this special event. Khun Tal made a speech and all of the new visitors made speeches and then we managed to capture Khun Daniel to hear his speech as well. Saturday was a bit of a warm up to get used to the horses and playing together, and then on Sunday the real competition started. It was a furious battle between MUKTAHAN and CHIANGMAI. As Khun Tsu captained his Muktahan team of beginners against Khun Un's team of Chiangmai beginners. In between chukkas, we
interviewed Khun Un about this new 1/4 size polo field in Chiangmai and his two horses. The Muktahan team of Gerry, Dino, and Luco had tied the game at the end of the third chukka, but then Khun Un unleashed the full fury of his team on the field aided by Santiago and new players Erin and Scot leading Chiangmai to a decisive victory. The SPP field is now the 7th polo field in Thailand, and Khun Un's will be the 8th. After the Beginners Cup, there was an epic battle between King Power and Black Dog. Black Dog was captained by Khun Tal, with Top, Tom and Stijn following orders. The King Power team was captained by Khun Vichai, with Lucas killing everyone and Khun Noo and Stan in attack formation. King Power led for most of the game and in the final seconds of the 5th chukka, Top threaded the ball through Lucas' legs to Stijn in front of goal who finished the job with a 8-8 tie between Black Dog and King Power. There was a delicious asado sponsored by Khun Vichai on Saturday night and then a Pullman goodbye dinner on Sunday night for all the guests. In two weeks, all the new members will receive their new SPP membership card with polo handicap on it, and Khun Vichai said anyone with an SPP membership card will get a "polo discount" at Pullman hotel and restaurant. So we will have to test the system, and see how much this will be. A special thank you to our 12 NEW SPP MEMBERS FOR 2008-9:

Khun Un Thanapon Tantriyanurak, Paris Arnold, Aaron Suwaki, Khun Scott, Gerry Gan, Luca Frontini, Stan Vukmer, Dino Asvaintra, Stijn Welkers, Eric, Tom, Jamie Woodward -- and we want to thank Katrina Bendle, and John Wong for coming as well. Thank you Khun Vichai for your great support of polo and thank you to Daniel, Lucas, Santiago, Gung, Dang and all staff for a job well done making a beautiful new field and clubhouse for SPP.

Stijn has promised us that he will return in January for his Gaucho Haircut, and he was so grateful not to receive his haircut this time (2 weeks prior to his official wedding ceremony), that he has kindly shared some photos with us from the Beginners Cup -- http://good-times.webshots.com/album/568584968gXQhwd -- Thank you Stijn. If you want to come play polo or join SPP, contact Pee Dang -- 0818136673 (+66818136673) -- Email Siam Polo Park

Polo Sunset - Thank you SPP for a fun Beginners Tournament 2008

18 OCT 2008 -- POLO SEASON OPENS AT VR


The season sprang into action this past Saturday at VR with King Power and VR battling it out on the field. Daniel, Lucas and Santiago have been riding 17 horses a day to get everything ready for the weekend, and it was a great fun relaxed game. Khun Tsu took the first fall of the season as he leaned off and tried to hook Lucas. Khun Vichai was playing out of his hat and he put about 5 goals in and just maybe the Handicap Committee will have to come back to Bangkok and raise his handicap to 1. On Sunday, both teams were poised on the side of the field to play again, and the heavens opened flooding the field. No problem, all the players proceeded 500 meters past the SPP polo field to the new VR Shooting Range and started firing a barrage of 9mm, 45cal, and 38cal revolvers and pistols into the targets. Top was firing extremely well and Khun Vichai was teaching Daniel how to shoot. Then a sudden idea emerged -- this year's WAN DEK COMBINATION POLO-GOLF CUP will now include SHOOTING. The COMBINATION CUP is becoming more exciting and diversified every year. SPP horses are still at the old SPP field, but some horses are available at VR. Scott is now coming for lessons and stick and ball at VR. If you want to start riding, then call Pee Dang. SPP opens officially on 01 NOV 2008.
17-26OCT08 -- CHINA POLO -- ROYAL SALUTE GOLD CUP & CARTIER INTERNATIONAL


The Gold Cup is returning to Nine Dragons Hill Polo in China. This year is bigger than ever. There will be 6 teams in the 'B' Division which is played at 1-goal level (17th – 19th October) and 6 teams in the 'A' Division which is played at 12-goal level (October 22nd – Oct 26th). The tournament is officially supported and recognized by the China National Horse Industry and Polo Associations as well as by the global Federation of International Polo. Last year, there were over 8,000 guests; this year Nine Dragons is expecting over 12,000 spectators and polo enthusiasts. Saturday 25 October will be a Cartier International Day between two high goal teams from Commonwealth and South America. The Final of the Royal Salute Gold Cup is on 26 October. More details are available on -- www.chinapologoldcup.com or by email -- info@ndhpolo.com.
WHO IS COMING

The Royal Salute B-Division will be fielding the following 0-1 goal teams:
- Lions - Rona Glennie(1), Craig Holeman(1), Stijn Welkers(-1), Paul Cheung(-1).
-

Noblesse

- Brian Xu(-2), Manuel Cereceda(2), Wayne Glennie(3), Gerry Gan(-2).
- Bulldogs - Lucas Talamoni(5), Tom Keith Roach(-2), Henry Gill(-2), David Walton(-1).
- Hussars - Stan Vukmer(-1), Steve Wyatt(0), Lucas Frontini(-2), Alistair Archibald(3).
- Meadowbrook - Mark Lillyman(4), Nick Keyte(1), Gene Wang(-2), Dino Asvaintra(-2).
- Royal Brunei - Pengiran Anak Rahim(0), Huzaimi Hussin(0), Amin Bungsu(0), Seu Kwok Wah(0).


UPDATE

: Noblesse wins the Royal Salute B-Division, beating the Hussars in the Final. Really close match, winning goal was by Wayne with an awesome nearside backhand that sailed into the goal. Steve had a very bad fall in the first chukka and had to be replaced by a 0-goal player from the Royal Brunei team.
The Royal Salute A-Division will be fielding the following 11-13 goal teams:
-

Royal Salute

- Alistair Archibald(3), Liu Shi Lai(0), Mark Lillyman(4), Craig Wilson(6).
- Thai/River - Howard Hipwood(5), Oliver Hipwood(5), Caroline Link(0), Angus James(1).
- Reignwood - Steve Wyatt(0), Greg Keyte(5), Wayne Glennie(3), Lucas Talamoni(5).
- Harilela - Aron Harilela(0), Federico Von Potobsky(4), Hissam Hyder(4), Marco Focaccia(3).
- Carnoostie Lions - Jagdeep Kairon (Jag)(0), Major Ravi Rathore(3), Vishal Singh(4), Shah Qubilai Alam(4).
-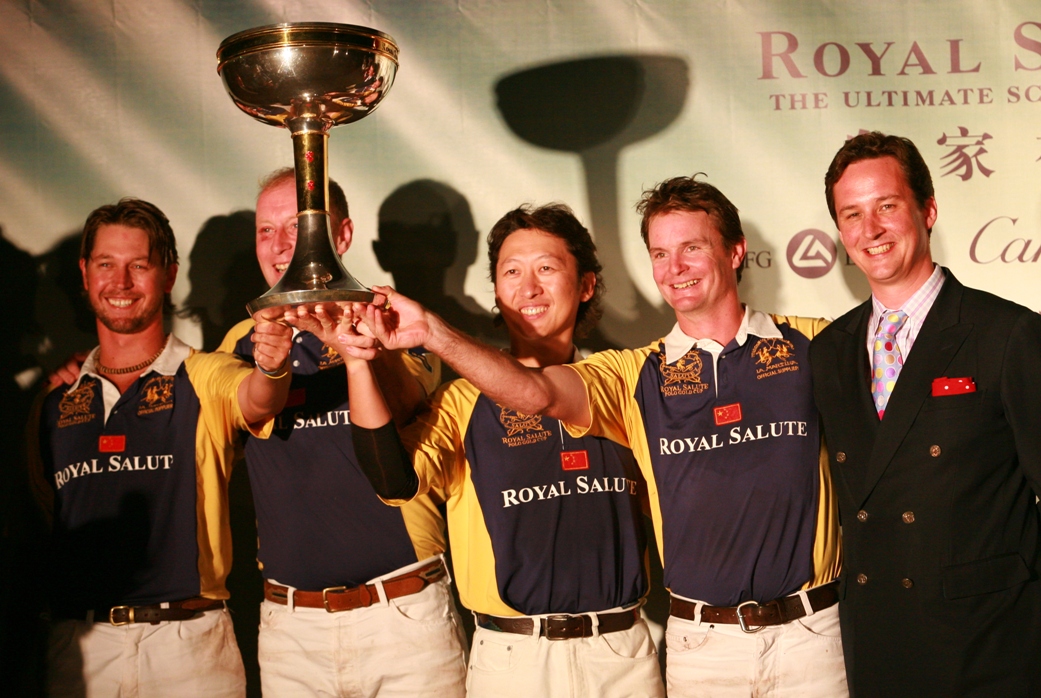 EFG - Luis Escobar(7), James Whisenand(0), Martin Ravina(6), Omar Travino(0).


UPDATE

: "Royal Salute" beat "Harilela (The Next Level)" 9-7 in the Final for the Royal Salute Gold Cup. Spectacular match played at blistering speed. The Harilela boys played their hearts out and led most of the match. Royal Salute conserved their horsepower and came back strong in the last chukka. They took the lead in the final minutes of the last chukka and held on to win. Alisdair Archibald (Scotland) captained the RS team despite having one eye heavily stitched up from an injury suffered in a Friday match, he scored a spectacular neck shot from 60 yards late in the final chukka. Harilela defeated Reignwood by half a goal to reach the finals. There was a crowd of 7,000 spectators at the final.
The Cartier International will see a 21 goal match between:
- Commonwealth - Craig Wilson(6), Oliver Hipwood(5), Harald Hipwood(5), Greg Keyte(5).
- South America - Luis Escobar(7), Martin Ravina(6), Lucas Talamoni(5), Marco Focaccia(3).


UPDATE

: A tie game between Commonwealth and South America, so Cartier had to give away 8 watches instead of 4. // Also, in the historic China-China match on Cartier Day, the Dragons (Brian, Gene, Jeff and Gerry) beat the Tigers (Liu Shilai (Leon Chu), Michael Wang, Dino and Jack) 2.5 to 0. Gene marked Shilai so tightly he could barely move, scored a fantastic penalty and won the MVP award! Gene also won the "Most Promising Chinese Player" award. Johnny Wong, Luca and Gerry Gan didn't win anything and had to spend a lot of time chatting with the stunning models in the VIP tent to console themselves .....
Stay tuned as we bring you updates and progress of one of Asia's Premier Polo Events.

Nine Dragons polo action 2008
30-31AUG08 -- THE ARGENTINA AMBASSADOR'S CUP ARRIVES IN CHINA
On the 30-31 August 2008 was the first time in the history of China polo that there was an Argentina Ambassador's Cup in China. This continues in the great polo tradition of combining talent with the quest to learn -- as experienced players joined beginners with one woman on each team -- on the field at Nine Dragons. Congratulations to Nine Dragons for driving polo to the frontier of sport in China. There were 4 teams entered in the competition. There was rain and the Navy put on another fine halftime performance, but when the final bell rang the victors were -- Shilai, Francis Leung, Manuel Cereceda and Jeff.
INDONESIA WINS THE INDEPENDENCE "MERDEKA" CUP AT NUSANTARA POLO
Salamat Merdeka! On 17 August 2008, Mas Bowo hosted a glorious INDEPENDENCE CUP at Nusantara Polo Club to celebrate Indonesian Independence Day and they defeated Anjing Hitam once again with a resounding 5-1. The match was very close for 3 chukkas with Indonesia only leading by 1 point. Then Hari took the charge in the 4th and final chukka and put a beautiful penalty hit straight between the posts. Black Dog was Captained by veteran Indonesian polo player Agus (who had just finished an Independence Day Football match on the polo field). Also, Khun Bruno was on the Black Dog team as special envoy from Polo Escape in Thailand. It was a great event followed by a delicious dinner with Indonesian Dancing and singing of the Indonesia National Anthem and the beautiful "Patriot's Hymn" (with all people standing and heads bowed to the floor). Mas Bowo's political party number is 5 -- and it was duly noted that Indonesia had claimed exactly a 5 goal victory. The most exciting event of the evening was the "Poco-Poco" (Indonesian Folk Dance). The Gaucho Nico is extremely skilled at this dance, and it is so popular that the "Poco-Poco" dance may soon be exported from Indonesia to Thailand during the Argentine Ambassador's Cup at Polo Escape in November 2008.
THAILAND WINS CHAKRAVARTY CUP AT HAM POLO CLUB
On 14 Jun 2008, there was a charity polo match at Ham Polo Club in London between Thailand King Power-La Dolfina and England Umbogo. Cambiaso and Khun Vichai were two of the players on the Thailand team. Prince William and Ed Goodman (USA) and some professional players made up the Umbogo team. It was a very enjoyable match to watch on a splendid sunny day after a delicious lunch at the clubhouse. Gusy and Peter were the umpires and the final score was Thailand 6.5 and England 6. The following day, everyone attended the
Queen's Cup Final at Guard's Polo Club on Smith's Lawn. This was very exciting polo with Ellerston starting out behind Sumaya and then coming back from behind to win 10-9. Gonzolo Pieres had some brilliant high speed drives down the field and the commentator kept telling everyone what a "cracking" good match it was. Khun Suzy, Khun Robin and Khun Ploy were on hand to support the Thai team as was Eric Barthe, Gustavo and Pepperoni. Flaca had her moment standing next to Prince William, but the batteries in her camera were dead. This was the first time we have ever seen Khun Top on the sidelines, but he was a "cracking" good spectator. Teet Tal was also back on a horse after two and a half months as a monk in Kalasin, and he said he was ready to play. Gustavo and Pepperoni will be in UK until September.
POLO INTERVIEW WITH A GAUCHO
Some interviews are just too good not to share with the world. We found this one in a Chinese magazine called Polo Life. It is an interview at the Nine Dragons Hill Polo Club in China with the Argentinean Vet and Polo player -- Ramiro Pellegrini. We have to admit that this interview was conducted in English, translated into Chinese, and then back into English, but the result is just priceless. The Chinese editor asks, "what is the most important thing to learn when starting to play polo." The Argentine Gaucho replies, "I believe that it is important to learn a bit of everything to give the players a basic overall concept about polo, and realize the addiction! There is a funny saying that learning to play polo should be like a woman's skirt - not too short, because if it's too easy you will lose interest, but also not too long, otherwise it will be perceived as an impossible challenge." So there you have it.... Let's play polo.
PLAYERS TOURNAMENT IN CHINA
Steve Wyatt organized a very successful Players Polo Tournament at Nine Dragons Hill Polo Club over two consecutive weekends on 3/4 and 10/11 May 2008. There were 4 teams: Red Dragons, Purple Pandas, Pink Panthers, and Green Frogs. Each of the teams fielded several new players from Shanghai and Beijing. Australian professional Wayne Glennie was specially flown in for this tournament. The tournament also attracted polo enthusiasts from all over Asia as visiting players flew in from Vietnam, Thailand, Singapore, Australia, USA, Argentina. Polo clinics were organized during the week, so new players could practice and learn from more experienced players. Grace was on hand with her camera, and there was even a special half-time 21 truck demonstration on the first weekend to test the strength of the polo field. The Red Dragons showed the strongest team-play during the tournament with very solid passing and good team formation. The Pink
Panthers led by Gene had some very good passing and interchange, but started to lose momentum due to fouls. The Green Frogs were led by Shilai being fed from the back, and the Purple Pandas came alive with very inspirational defense from Brian Xu. The finals were between Red Dragon and Green Frog, with the Frogs trouncing the Dragons on the final day. We would like to thank Johnny Wong for excellent umpiring of 48 chukkas over the two weekends. The horses were in excellent form and the weather was cool and perfect for polo. Gene and many of the beginner players began writing THE RED BOOK OF HOW TO PLAY POLO (complete with Chinese Polo Terminology). We will share this "work-in-progress" with you as it develops. Polo manager and vet Churo gave us a very special interview before he left on his Camel Safari to Vietnam and we will be sharing this with you soon. He gave us some very good tips on how to ride the horse and play polo.
29 MAR 2008 -- SOUTHEAST ASIAN POLO FEDERATION MEETING IN KUALA LUMPUR
During the SEA Games in Thailand in December 2007, Malaysian team member Dato Mohammed suggested that there should be a SEA GAMES POLO MEETING in Kuala Lumpur on the weekend of 07-09 March 2008 where they would invite interested countries for discussion and a friendly polo match. We have recently received a message confirming the status of this wonderful initiative on 08 Feb 2008 from Peter Abishedanaden to the Gentlemen of polo -- We
had originally scheduled 7th to 9th March to meet in Kuala Lumpur. However, with the impending General Elections in Malaysia likely to be held around that time, we are proposing a change in date and venue. The Royal Malaysian Polo Association is pleased to invite you to a meeting to set-up a South East Asian Polo Federation, to be held at 11 a.m. on Saturday 29th March at the Hyatt Hotel, in Kuantan, Pahang. Each country is invited to send two delegates to this meeting. This meting coincides with the final weekend of the Royal Panang National League and Merdeka League Polo Tournaments. All delegates are invited to watch the polo and to attend the social functions of this tournament. We will revert with more details of this event in the near future. The RMPA would be pleased to assist with hotel bookings at the Hyatt Kuantan. Please contact Mr Mohd Siraj at msiraj@tm.net.my who will be able to liaise with the hotel on your behalf. Please R.S.V.P. to admin@rmpa.org.my by 7th March 2008 of your country's attendance at this meeting.
01-03 MARCH 2008 -- CAMEL POLO IN MONGOLIA
There were 22 Camel Polo teams with 140 Camels assembled outside the town of Dalanzadgad in the Gobi Desert of Outer Mongolia in late February this year. The temperature was -18*C, and there was blowing snow and sand as the tournament opened. Over two days, 32 games (64 chukkas) were played on two adjoining sand fields for a spectacular show of Camel Polo. The riders use Bactrian Camels which have two humps, and their sticks are made of local wood (very heavy, strong and difficult to break) with rubber hose "mallet-heads" that are also difficult to break. The ball is a normal arena polo ball. The Camels have one single rein attached to their nose, and they run very fast. The saddle consists of a blanket with stirrups secured beneath the camel. You whip the camel to go very fast and call out the word "Chuu." There are 4 people on a team, and there are no fouls -- anything goes. Some players wear construction helmets. Mongolian Member of Parliment Oyunbaatar is the founding pioneer of Camel Polo. He comes from Umnugobi near Dalanzadgad and is a great lover of Camels. He led the Camel Polo ceremonies and we will bring the photos of this exciting contest soon -- www.camelpolo.org.mn -- contact Oyunna -- contact@camelpolo.org.mn
This Year Camel Polo results:
First Place -- Ogoomor Team (Manlai Sum, Umnogobi Province. Coach Galbadrakh).
Second Place -- Khondot Team (Khankhongor Sum, Umnogobi Province. Coach Sarankhuu).
Third Place -- Bayankhoshuu Team (Mandal-Ovoo Sum, Umnogobi Province. Coach Ganbold).